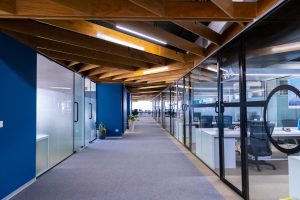 Is working from home making things dull and depressing for you? Or are you a startup looking ahead to have a physical office space? Or do you want some private office space for your team? Or commuting to work takes away a lot of time from your day? Well, the solution to all of these problems is to work from a coworking space, especially in a city like Bangalore, where traffic jams can take away your most productive hours of the day. If you are in the service industry and can work with just your laptop, then head over to your nearest GoodWorks Spaces and get your day started without any hassles. Present in Bangalore's prime locations, GoodWorks CoWork is one of the largest coworking brands in Bangalore.  
The benefits of working from a coworking space are immense. It just not keeps you away from the dullness of working alone but also has other perks. Here we will discuss the top 5 benefits that are enough to get you to work from a coworking space. Let's get into more details – 
Benefits of a CoWorking Office Space
Networking with other individuals
The essential role that a coworking space plays is to develop your network. You will meet other like-minded people and get to engage with them. This increases your network and helps you grow as an individual and help in your work. No matter how active you are on social media and other platforms to grow your network, you cannot underestimate the power of face-to-face connections. They are easier to build and goes for the long term. Who knows, you could meet your next big client there? 
Increased Levels of Productivity
While working from a coworking space, your productivity levels are bound to increase. Are you thinking how we can be so sure? Well, the environment plays an important role in our productivity levels. And coworking spaces are a lively and happy places where you see everyone dedicatedly working, especially GoodWorks Spaces that has aesthetically designed interiors that will boost your creativity levels.
Boost in creativity levels
Many times, it happens we get drained out of new ideas and feel blank. But this will not happen if you choose to work from a shared office space. You can choose where you would like to sit and can change it as per your wish. Interacting with various people also adds up fresh perspectives to things, and you can always freshen up with a cup of coffee in the cafeteria.
Cost-effective solution to traditional office
We have to agree that cost plays an important role in making any decisions. While working from home is dull and impossible forever, a traditional office set-up costs a huge sum of money. So the ideal solution is working from a shared office space. It is the most cost-effective solution you will get with all the set-up, similar to that of an ongoing office. Moreover, you can also choose your seating as per your need, as in hot desks, private office space, dedicated desks, and even meeting rooms when needed.
Provides flexibility that cannot match
The cost that you pay for a coworking space gives you the facilities of a traditional office. The time and money took to set up a traditional office cannot match the flexibility of just going and working in a coworking space. Moreover, if you do not like the space and want to shift, there are no liabilities behind you; you can do it without giving any second thought. And if your team size increases, you can just take up more seats; it is that simple. This flexibility is unmatchable.
Get the benefit you deserve
By getting exposed to new perspectives, you can work and build your business better. It is even beneficial for your team as they get to grow and learn. So what are you thinking? Contact Goodworks CoWorks, the number 1, coworking space in Bangalore that provides dedicated desks, private office, space, meeting rooms, business center and virtual office space. Get all your coworking needs filled in one place. Contact GoodWork Coworks here.
Still, confused? For a more detailed review, you can check out – Coworking Space in Bangalore: Key Factors To Consider Before Choosing A Coworking Space