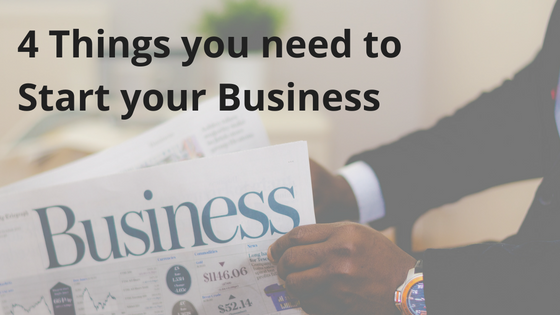 The transition from a 9 to 5 day job to an entrepreneur can be difficult to adapt in the initial days. But don't let that stop you from pursuing your passion. Now is the age of "Start-ups" and failures are embraced more positively than before.
In this blog post, we are going to discuss the 4 basic things you need start a business:
1)  The Idea:
Everything begins with an Idea. Your idea doesn't need to be fully developed, but it is necessary that you have backed your idea with enough research and data. There are "cool" ideas and then there are "saleable" ideas. Focus on fulfilling an existing need that users have.
Though this may sound inclined towards SEO, begin with a simple keyword search to understand your user needs and demands. Once you have a clear picture of the problem, crafting a solution tailored to address that problem becomes easy.
2)  An Emergency Fund:
It would be foolish to start your business without creating an emergency fund. Life would be too good to be true if everything went as per plan and you achieved your desired results. Now lets cut back into reality and face it – Anything can happen and your plans can derail!
The revenues from your business could be very erratic in the initial days, thus by creating an emergency fund you lower your financial stress and just feel more prepared.
3) An SEO – optimized Website:
The most important thing that you need to get the wheels in motion would be a beautiful and user friendly website. You don't need a hard-core developer to build an awesome website! There are plenty of free options like Wix.com and Strkingly.com that help you create your website the way you want without the hassle of coding.
Once you have a Website, your next focus must be on creating quality Content and SEO. The investment is very minimal, but the returns are sky-rocketing. If you ask us, our personal favorites in the industry are Brian Dean from Backlinko and Ryan Deiss from Digital Marketer . They provide the perfect capsuled solutions that you need to promote your business in the digital world
4) A Social Media presence:
You may be the traditional business man, but you need to be at the place where your users are – On the Internet. Social media is one of the most powerful means to communicate with your target audience. Don't just leave by creating a business page on Facebook / Twitter. Engage with your audience – tell them your story and get them interested in buying your product.
Take help of some social media listening tools to that can help you stay updated on your user discussions. Content is the King my friend – so even if you don't have a plush office at the moment, make sure you have a strong online presence and make your voice heard.
Doesn't all of this sound simple and easy? With these 4 simple steps clubbed with your passion, setting up your dream business is just a few steps away.