For the second year in a row we have bagged the Coworker Members' Choice Award, and we could not be more excited!
The global coworking community at Coworker.com voted for the best coworking spaces in their city.  Members from Bangalore city have voted for us!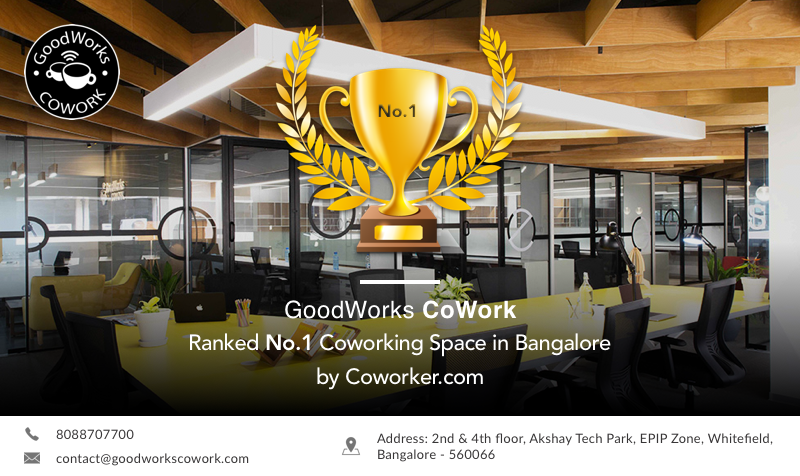 Coworker.com has one of the largest communities of professional who opt for coworking spaces. The Coworker Members' Choice Awards covered the coworking offices in 126 cities including Buenos Aires, São Paulo, Toronto, San Francisco, Chicago, New York City, London, Brussels, Berlin, Melbourne, Shanghai and many others.
Winning for the second consecutive year, what it means for us:
We were not aiming to be the best coworking space in town. We were aiming to be your best. Our aim has always been to provide you with best solutions that match your needs. We are honoured to be featured as the best coworking space in Bangalore for the second year in a row.
We are all about the service.
We believe great things can happen when you are coworking. Our coworking office in Whitefield attracts likeminded entrepreneurs as we provide you with an environment that ensures your teams are comfortable, engaged and productive. Right amount of privacy, immense opportunity for networking, chill-out zones and private corners for phone calls and community support team just click away.
In addition, the location ensures easy accessibility to most sought after food joints and transport connectivity. What's more? Shared spaces are totally worthy of Instagram.
We are grateful to our GoodWorks co-workers.
We are a community and our co-workers understand this more than anybody else. We have grown significantly in the last two years. As we embark on journey to greatness with new and larger spaces like GoodWorks Electronic city we are simply grateful to our existing community members who help us become better every day.
Call us at: 8088707700 and request for a tour today!