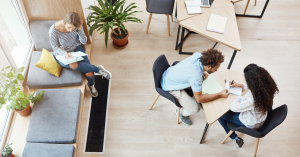 For many of us, the idea of a traditional office job is becoming obsolete. With the ever-increasing rise of freelancing, remote work and tech-savvy nomadism, it's no wonder why coworking has become the new trend. Coworking is great for those who are looking to escape the monotony of a nine-to-five job, and it allows you to travel while still having access to a workspace. In this blog post, we'll explore why more people are turning to coworking from anywhere and how you can get started.
What is coworking?
Coworking is a new trend that allows people to work from anywhere. It is a way of working that allows people to share space and resources, and to collaborate with others. Coworking is becoming increasingly popular as more and more people are looking for ways to work from anywhere. There are coworking spaces all over the world, and many coworking websites and apps that allow people to find spaces to work from.
The benefits of coworking
There are many benefits to coworking, whether you're a freelancer, small business owner, or remote worker. For one, you can save on office rental costs by sharing space with other businesses. Coworking spaces often have all the amenities of a traditional office, such as meeting rooms, printer/copier access, and Wi-Fi, so you don't have to worry about setting up your own office space.
In addition to saving on overhead costs, coworking can also boost your productivity. Working in a shared space can help to eliminate distractions and create a more collaborative environment. And if you're working remotely, coworking can help you to avoid feelings of isolation.
Whether you're looking to save money or be more productive, coworking is definitely worth considering.
How to get started with coworking?
If you're new to coworking, you might be wondering how to get started. Coworking is a great way to meet other like-minded professionals and work in a more collaborative environment. Here are some tips on how to get started with coworking:
1. Find a coworking space that fits your needs. There are many different types of coworking spaces, so it's important to find one that suits your needs. Do you want a quiet space to focus on work? Or do you prefer a more social environment where you can interact with other workers? Once you've found the right space, you can start working!
2. Get involved in the community. One of the best things about coworking is the community aspect. Don't be afraid to get involved and introduce yourself to others in the space. You'll soon find yourself making friends and networking with other professionals.
3. Make use of the amenities. Many coworking spaces offer great amenities such as coffee, tea, and snacks. Take advantage of these perks and make yourself at home in your new workspace!
How to make the most of coworking?
Coworking can be a great way to boost productivity, get out of the house, and meet other like-minded individuals. However, it can also be tough to find the right coworking space and make the most of it. Here are a few tips on how to do just that:
1. Do your research: Not all coworking spaces are created equal. Some may be more suited to your needs than others. When you're looking for a space to cowork in, take into account things like location, price, amenities, and the type of atmosphere you're looking for.
2. Find a trial period: Many coworking spaces offer day passes or trial periods so that you can try out the space before committing to it long-term. This can be a great way to see if a particular space is right for you.
3. Make use of networking events: Many coworking spaces host regular networking events which can be a great way to meet other professionals in your field and potentially land new clients or projects.
4. Use the space wisely: Once you've found a coworking space that works for you, make sure you use it wisely. That means showing up regularly, taking advantage of any available amenities, and respecting the other members of the community.
By following these tips, you'll be well on your way to making the most out of coworking!
Conclusion
Coworking from anywhere is an exciting new trend that can offer great flexibility and freedom to those who choose it. With a few key steps, you can make this lifestyle work for you, no matter where in the world you are. Start by assessing your needs and requirements, finding the ideal coworking space that suits them best and then setting up systems so that everything runs smoothly when it comes time to actually get some work done. The potential rewards of this type of working style are tremendous – increased productivity, improved job satisfaction and greater financial success await anyone willing to give it a go!
Check out GoodWorks coworking space in Bangalore, it is completely designed keeping in mind that people get utmost comfort while working and the space adds app productivity. So what are you thinking? Book our coworking spaces today!