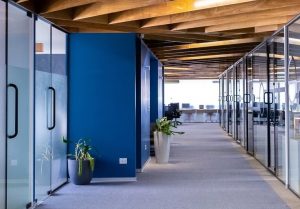 Every company aims to attract and retain the best talent possible. Not only attracting talent, but the work also goes beyond it, to retain that talent. This is possible by making great investments in the people within the company in terms of learning and ensuring that their work environment is as comfortable and productive as possible. This is where a coworking layout and utilizing a coworking location either exclusively or for off-site meetings can make employees happier and ultimately more productive.  There are many reasons for it. Let's get into details –  
People prefer Open Office Space
Most of the coworking layouts are designed to offer open seating options, than a traditional office space with traditional cubicles and closed-off offices. Youngsters make up the majority of the workforce and prefer open-plan arrangements because it offers a better path to problem-solving, more intense collaboration, better creativity and community development. 
It offers remote workers a way to collaborate with other people 
It is becoming common that companies have remote full-time workers and not contractors. One way to keep these offsite workers in sync and connected to in-office workers is to provide coworking opportunities that offer remote workers incentives to utilize and connect with other employees in a community-oriented flex/coworking environment. On-site employees have the benefit of collaborating in person, but it is difficult for remote workers to experience this same kind of connection, which can inspire happiness and motivation even in a remote setting because they know they have the option to be in an office with other workers whether or not they are employed by the same organization
Coworking boosts productivity significantly
Many workers agree that having great personal connections with other workers encourages productivity and research has shown that coworking can provide emotional benefits. It is no surprise that happier employees are more productive and collaborate better. Therefore when employees get to work from a place filled with workers they tend to be happier than working alone at home and thereby it makes them more productive. 
Coworking makes people happier and helps establish connections 
Working in a space with other people in your company and connecting with them even for a short chat at the coffee machine can change the entire outlook of an employee. You can grab lunch with co-workers and exchange ideas easily without having to jump through the hoops of setting up a formal meeting. Employees are more likely to feel like they belong in a space when they have the flexibility to collaborate with others in an open office layout. At the end of the day, when professionals make strong connections with the people they work with, it is harder for them to leave a company and also helps them establish friendships within the work sphere, improving productivity and connectivity among employees.
The coworking offices are the new place of working
The success and adoption of coworking and flex spaces have proven it not a fad and it's here to stay. What was once a trend has now become its own niche type of office space and everyone from small startups to large corporations are taking note of the happiness and increased productivity coworking layouts bring employees.
GoodWorks CoWork, the eminent coworking space in Bangalore is the ideal choice for freelancers, startups as well as enterprises. We focus on creating modern, professional, and energetic work environments that stimulate the creativity and productivity of people. Please don't hesitate to reach out to our team to discuss more. We have a number of options to choose from as per your needs. We even provide customisation! Contact us today to schedule a tour of our facilities present at all key locations of Bangalore.