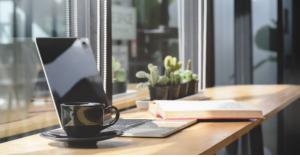 With the pandemic, the world shifted to remote working and that's when people got accustomed to this working method. A majority of employers are going ahead with remote working. But working from doesn't have to be dull & boring for you. How? By choosing a coworking space to work. By choosing a coworking space you get access to dedicated desks, meeting rooms, private office space, hot desks, etc. In this blog post, we will explain the concept of dedicated desks, and everything that you need to know about it. 
Coworking spaces have adapted to the needs of the professionals and you can choose from a multitude of options. But if you are unable to decide, in this blog let's get into details.
What is a Dedicated Desk?
A dedicated desk in a coworking space is a place that is completely yours. No one else but you can use the desk and all the amenities it comes with. So even when you're not in for the day, the place remains empty so that when you join in, you are all set for work.
A dedicated desk ensures that you get an environment free of any distractions.
Who Can Use a Dedicated Desk?
Some people prefer to have a predefined spot reserved for them. While some others are comfortable with taking up any spot that is available. For others, it is their choice to come for work and pick any free spot that is preferable. So you need to know that you fall under which category and likewise, you can choose either a hot desk or a dedicated desk.  
So anyone, be it a freelancer or a start-up founder or an enterprise, anyone who needs a permanent space reserved for them can use a dedicated desk. 
What are the Advantages of a Dedicated Desk?
There are many benefits and amenities that come with a dedicated desk. You can have a quiet place to work, and you can also mingle with others in the place. So let's discuss how a dedicated desk can help you more –
Customize your space 
You can customize your spot as you like and no one will stop you from it. So if you use many gadgets and have lots of things on your desk then it is best to choose a dedicated desk. 
Have privacy
With dedicated desks, you get a good level of privacy of your work and you dnt have to worry about getting things leaked. 
Your permanent place of work
You can leave your belongings for the day without any problems or worry and can come back the next day to find your desk as before. 
Still have access to the community
You can enjoy all the benefits of the coworking community, besides having your own space with a dedicated desk. Along with your dedicated desk membership, you get complete access to common areas such as the cafeteria, restroom, reception, etc.
Summing Up
Check out GoodWorks Coworking spaces in Bangalore and get what you need! GoodWorks has all the options that are there in a coworking space so you can take up as per your requirement. Get in touch with the team here!