When it comes to working at a coworking space, for most of the people there, it means working away from their homes and in a good company of like-minded people. Coworking space also means that you do not need to sit at a local café to finish your presentation, which takes up a lot more than the usual time, thanks to the constant chatter on the other tables.
Your coworkers expect to work in an environment where the necessary equipment and amenities are available to make their stay during work a very comfortable and productive affair. It is true that a place with the perfect balance of work ethic and a great setup contributes a lot in increasing the productivity of the people working there.
To get that perfect coworking office space for people, it is essential that you pay attention to a couple of things- the kind of visual appeal you want to create for the people and your brand, and what are the infrastructure requirements for creating such a kind of work ambiance.
Having a clear vision on these two fronts will sort you out in your need to have a perfect coworking office space. This vision, however, needs a certain degree of planning for getting the best possible results.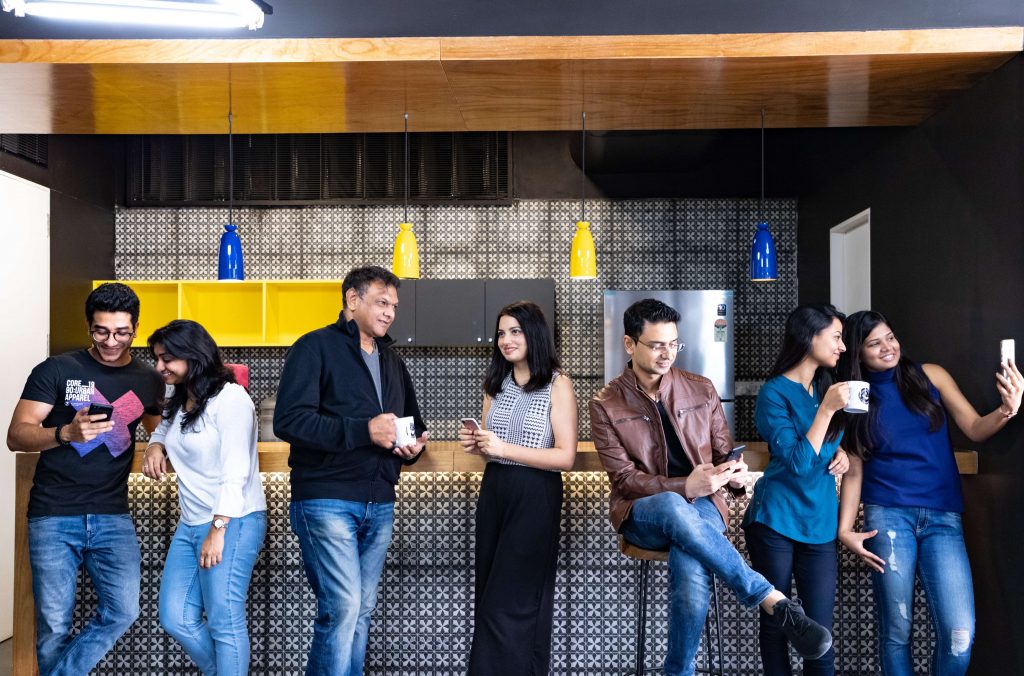 Even Distribution Of Space
There is a specific division in place when we talk about a coworking space. 50% of open space, 18% area for regular offices, 17% for meeting rooms, 8% for events and a little of the remaining space for other places is how the general space allocation works.
A MODULAR SPACE
Modularity plays a significant role in the layout of your space. This is important because the coworkers need to make their space personal to get it evolved as per their needs and requirements.
Open space in a coworking space has more to do with functional mobility or modularity, facilitating a quick transition of the space to host and conduct multiple events for the brands working at the place. There are not too many coworking spaces having a dedicated area only for games, mostly because of space or to encourage interaction among the workers and event attendees.
VISUAL APPEAL
Coworking spaces are supposed to be charming and friendly places. Therefore, the visible setting of the area too is essential. You should try to pick out a unified shade and style to incorporate in the space and also the furniture. Remember that color is a very influential factor for all the workers at your place. Setting the right kind of mood with the furniture and your office space is entirely up to you.
FURNITURE
The most critical part in terms of furniture is that there should be enough space for the safety of mobile phones and other belongings. To get the right kind of furniture, try to go for dull colors and attractive pieces which go well with the ambiance you have selected.
The best bet will be to go for a mix of designer furniture and the pieces you can get from roadside stalls or flea markets. You will be helped to merge the classic parts with more trendy furniture pieces.
For the chairs, you should always focus more on comfort. Consider rolling chairs, armchairs and choose the option that goes well in both design and practicality. Do Not skip the plants though. They provide a lot of good vibes as well.
CAFE & LOUNGE
Irrespective of your area has a lot of offices or an open field, the pantry and eating areas usually are pretty lively. You should not underestimate their potential and try to reserve a whole space for both of them. A cafe is a place where your coworkers will relax, socialize and develop relationships as well.
In other words, the cafeteria is the heart of an active coworking community. You also have the opportunity to design the cafe as an area where everybody can have an excellent time and chill outside the regular working hours. This may sound funny, but a good cup of coffee is significant to any working place. Coffee encourages more social interaction which adds more value to the first service. Some areas also have a dedicated coffee room too.
MEETING ROOM
The meeting room is a professional space in a coworking area and is very integral to it. Your coworkers meet each other or their clients in the meeting room itself. It acts like an asset and a pitching point for you because there is a considerable portion of workers who are only interested in getting a suitable meeting room to get a coworking membership.
It is of utmost importance that the meeting room is adequately equipped to suit the purpose of business meetings. The equipment should include a whiteboard, projector, audio and video conference system, computer chargers, phones and more.

Coworking is the best way to reduce operational costs yet succeeds in providing the best in class office space for many companies.
GoodWorks CoWork has been awarded as the No.1 coworking space in Bangalore by Coworker.com and has also been nominated for the NDTV Design & Architecture Award 2017.
We at GoodWorks specialize in providing the Bespoke office spaces that cover each detail of how you ever dreamt of your workspace to look like. Also, the amenities we provide are of world-class standard. Book A Tour Now to take a closer look.