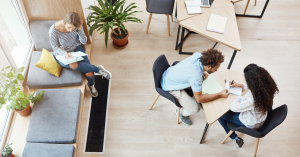 Proper management of the workplace is vital for the success of a company. Handling different situations and people is a hectic job that requires dedication, patience, and skill. It is not easy to ensure that everything runs smoothly while maintaining peace between the team members. Moreover, without efficient workplace management, work productivity may suffer.
How to manage your workplace efficiently and stay up-to-date with the world?
There are numerous tips that managers follow and adopt to manage the workplace effectively. You need to inspire, motivate and gain respect from your peers. Here is how you can achieve this –
Being a leader doesn't only mean giving orders and expecting others to fulfill them. You also need to show them how to do the tasks. Moreover, you must set examples. For that, you need to behave the way you want other employees to act. Apart from that, you must be able to offer motivation when your team is down.
Team leaders or managers are not expected to be a superhero all the time. Exhibiting emotions in stressful situations can help people bond with you. If you feel too much work, ask your team or employees for assistance. Moreover, if you make a mistake, admit it and motivate others to find solutions. This will make people feel comfortable around you.
Adapting to the new generational trends is vital for efficiency in the workplace. You need to understand the mentality and thought process of the people you want to manage. For instance, you can offer flexible working hours and remote working for Gen-Z employees. Apart from this, you must be willing to adapt to new ideas and be flexible. If you are set on your old ways, you cannot improve work productivity.
Maintain seamless communication
One of the most vital aspects of running a successful company is to make sure that there is a smooth flow of communication. For that, you need to make sure that you can trust your employees. In order to ensure that nothing gets lost in translation, make effort to learn from your team. Moreover, you must also focus on personally engaging with them.
Apart from professional communication, you also need to know your employees personally. For that, set up different exciting activities that aid in strengthening team bonds. If you make effort to know your team, they will feel more comfortable and relaxed around you. As such, they will be able to share your problems with you.
It is vital that you assign tasks to people that can ace them. For that, you need to be aware of their strengths and weaknesses. After all, the end result is to make sure that the client is satisfied with your services.
Opt for the latest technology
Another factor that plays a significant role in organizing the workplace is to include the latest technology. For that, you need to purchase the latest gadgets to increase work productivity and attain client satisfaction. Being at par with the latest trends is crucial to maintaining your business image.
Conclusion on Staying up-to-date at Workplace
These are some of the tips that you can follow to make sure that that everything runs seamlessly in the workplace. Organization, excellent communication, and a positive work environment can increase productivity considerably. It is vital to understand that inculcating a warm, positive, and friendly company culture is essential to attaining success.  However, for maximizing your work potential, you need to choose the best coworking space company. Check out GoodWorks coworking space in Bangalore, it is completely designed keeping in mind that people get utmost comfort while working and the space adds app the productivity. So what are you thinking? Book our coworking spaces today!