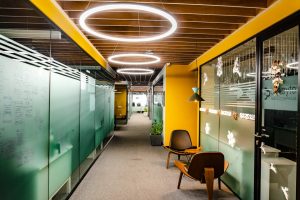 The secret to attaining success in business is to have a positive relationship with your clients and customers. However, the only way to secure clients and land lucrative deals is to convince them to choose you in a comfortable yet private setting. For that, selecting the ideal meeting room is of absolute importance. Irrespective of the industry you are in, the layout of the meeting room plays a vital role in influencing your business.
What to consider before choosing the best meeting room?
It is without a doubt that an ideal meeting room has the capacity to sway the deal in your favour. With the best layout, ambience, and setting, you can leave a positive impression on your clients. In an effort to help you make the right decision, we have compiled a list of factors that you can consider while choosing the ideal meeting room.
One of the most vital factors that you need to keep in mind is the location of the meeting room. It is pertinent to remember that you will have a meeting with different clients and as such choosing an appropriate place is essential. The best solution is to opt for a place that offers accessibility via various transport modes.
You might not realize, but flexibility is a crucial point. Here, you have to remember that you can't rent or create different rooms for various meeting purposes. The only solution is to choose a room that you can customize as per your meeting needs. For instance, the addition of catering to make clients more comfortable and so on.
Another factor that you must consider is the layout of the room. Apart from being functional, it also must be comfortable. For this, you must choose a room that is spacious so that you accommodate a large team, if necessary. With a large meeting room, your clients can discuss with their team without any hassle. Moreover, you also need to check out the table structure and the number of chairs,
If you are renting a meeting room, then you must consider the assistance of the on-site team. To offer the best experience to your clients, you need to make sure that everything is in the correct order. Slight disruptions can impact your reputation and lead to the loss of a deal. In this case, the cooperation of the on-site team will help you a great deal.
With advanced technology, having controllable lighting is not an impossible feat. Moreover, make sure to also check out the sound system. It is better to opt for a meeting room that is sound-proof, in order to maintain privacy and confidentiality.
Lastly, you need to keep into account the technology available. Choosing anything but the latest model is a mistake. Make sure that there is uninterrupted Wi-Fi, along with other technological equipment pieces. It is vital that you test out the different visual and audio devices before choosing the room.
Conclusion
In essence, an ideal meeting room helps to maintain inter-office relationships. Apart from assisting in better communication between employees, it can also help you get more clients. The aim is to ensure that the meeting room is comfortable, private, and technically equipped. Keep in mind that with an efficient meeting room, you can get more work done than you thought possible. Want to explore top-notch meeting rooms? Check out GoodWorks CoWork, based at all prime locations of Bangalore. We bet, we'll not disappoint you. Contact us here!