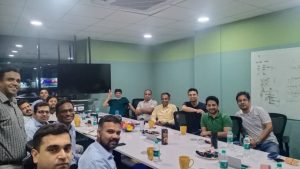 GoodWorks CoWork, one of the largest coworking and managed offices brand in Bangalore, has entered a partnership with the Coworking Association of Karnataka (CAK). CEO Vishwas Mudagal met with the coworking Industry CEOs and leaders to set up the agenda and roadmap for the Coworking Association of Karnataka (CAK). It was great to see coworking industry leaders come together to form a strong bond and association to stand united in the post-covid era. 
The message was clear – "Healthy competition is important, but standing together as one to ensure the Coworking industry as a whole wins is more important."
The Coworking Association of Karnataka (CAK) – with around 50 coworking and managed office players of all sizes – will act as an industry body to ensure the interests of the coworking companies are protected and the industry thrives despite the uncertain business climate. CAK will put forward the strategy and agenda shortly. 
The meeting was attended by Shesh Rao Paplikar (Bhive), Rajesh Kotta (Hustlehub), Manas Mehrotra (315 Work Avenue), Rahul Singh (Clayworks), Taju Thomas Abraham (Incubex), Ravindra Kumar Konanur (BizzHub), Balaji Pasumarthy (Golden Square), Devendra Agrawal (InstaOffice), Awfis Space Solutions Private Limited, Ashish Agarwal (Enzyme), and the rest!
We believe this partnership will lead to the betterment of the whole coworking industry. 
Bookmark this place to get further updates about this association.