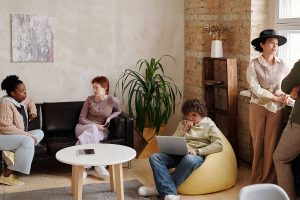 There is a lot in an office address, it is the address of your office that gives the first impression of your brand. If your office address is that of a prime location, it definitely gives your business an advantage and a brand boost.
So if you are thinking to take up a virtual office address for your business then there are certain things that you must keep in your mind before choosing a virtual office address –
What is a virtual address?
A Virtual Office Address is a place that you take up to register your office. It gives your business a physical address, with all the office-related services such as a receptionist, meeting rooms, and mail handling, that too without long-term commitment.
You and your team don't need to be present there and you can work from anywhere but use the virtual office address as your mailing address, thereby giving your company a location identity.
Most of the businesses, today are shifting to new ways of working, but the basics remain the same. you need to have your office registered at some place. In that case, virtual office addresses can prove to be cost-effective and convenient.
Here are some ways in which a Virtual Office Address can help your business – 
You get a reputed address at a prime location
With a Virtual Office Address, you can own an address in a prime location that is well-connected and has good reputation. When you sign up for GoodWorks virtual office space, you can promote it on every channels of your business.  Such as email signature, website, and Google My Business listings. This way you can fully reap the benefits of having a prominent address.
You get a  Virtual Receptionist
You don't have to worry about any calls made to your office as there will be a dedicated Virtual Receptionist who will take your calls, and handle your mail and package deliveries on your behalf, making things hassle-free. This way you can invest your time where it matters most and therefore allowing you to focus on the core work and not administrative work.
You get to network and build connections
By taking up a virtual office space, you become a part of a large community. As Goodworks virtual office spaces are a part of Goodworks coworking space so you also get to reap the benefits of networking with other people.  You will have access to the meeting rooms as and when needed. This opens a world full of opportunities to network with our excellent community. This way you can make new connections and meet your next big client.
You save money by paying no overheads 
Virtual office space is an economical option for businesses that operate remotely and do not need a full-fledged office space. By taking up GoodWorks virtual office space you do not have to pay any lease or any maintenance costs. With zero capital investment in a premium office address, you will save costs that will help you in critical areas of your business.
Short-term flexibility 
By taking up virtual office space membership, you also get the flexibility to take up the space for a short duration or a long one which is not possible with real estate leasing. Here you can extend your plan as and when the need arises.
Undeniably the pandemic situation has brought diverse losses and setbacks to businesses. But, experts have always come up with a custom fit solution, and one fine example is the incorporation of virtual office space in Bangalore. And in the upcoming years, this specific work culture is not going to stay limited to large companies and organizations. In fact, businesses of all sizes will welcome it and enjoy its benefits.
GoodWorks Cowork hosts private office spaces in Bangalore where you get access to world-class amenities and facilities. Contact Goodworks CoWorks, the number 1, coworking space in Bangalore that provides, dedicated desks, private office, space, meeting rooms, a business center, and virtual office space. Get all your coworking needs filled in one place. So what are you thinking? Get in touch with our team for more details. You could even get a free trial day. Contact GoodWork Coworks here.