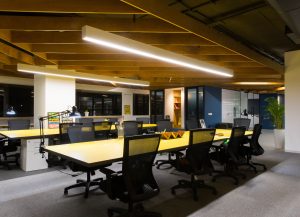 Meeting rooms are an important component of a workspace that makes our meetings peaceful, productive and aids in decision making.  Research even shows that teams spend a significant amount of time in meeting rooms. A meeting room holds an important position in any organization as major discussions take place here and action plans are made. 
Not just for organizations, but meeting rooms also help freelancers and remote workers for team and client meetings. As everything cannot be discussed in open places such as restaurants and malls. To assist important tasks, meeting spaces should be designed aptly to support the interactions that take place inside.

However, in most organisations meeting rooms are not designed keeping in mind all these factors.  And many freelancers and remote workers do not use meeting rooms. So here in this blog we will discuss how proper meeting rooms can help in successful meetings. The design, type and placement of furniture, conferencing equipment, lighting, and room decor plays an important function. As all of these can have a significant impact on the outcome of the discussion.

Here the role of modern and aesthetically designed meeting and conference rooms comes into play.

How do modern meeting rooms be designed?
Design spaces according to the purpose
Spaces should be designed and built as per the requirement to match the different sizes of groups. It is a good idea to experiment with modular room designs and modern interiors. This will also help in future in scaling up or down the meeting space depending on the need. Also this will not hamper the meeting room experience.
Design it for premium comfort 
The meeting room should be designed for ultimate comfort. Sufficient care must be taken to make everything comfortable like chairs, table height, lighting and sound fixtures as well as ventilation in the room. This is important so that if discussions extend beyond a certain duration, people should feel comfortable enough to sit for a longer time.  
Employ technology that is user-friendly
While selecting a meeting room equipment such as a video conferencing device, know the purpose of the room. While every meeting room needs a whiteboard, marker, and a duster, a boardroom or conference room may need an advanced teleconferencing facility. 
Another important factor is meeting room technology must be user-friendly. The room must make it easy for participants to use their device to share audio, video, and data with other participants. Technology should also be used to aid meeting room bookings. 
Be creative in designing the room 
A person entering the meeting room is already in the mood of collaborating and discussions so they should feel comfortable as soon as he/she enters a meeting or conference room. This depends on the atmosphere the room projects. A meeting room design is much more than the placement of the furniture or the equipment. The meeting or conference room should exude an atmosphere of comfort and creativity for a participant. To make this possible, there are certain design principles that should be taken into consideration. The basic design elements of any meeting rooms such as visuals, seating arrangement, colour, lighting, and music should be chosen properly by experts.  A good integration between the meeting room and brand themes also creates a sense of familiarity and belongingness in the participants.
Apart from the basic requirements of the meeting room, you can get creative with the interiors. However, the designs should focus on enhancing the productivity of the rooms instead of distracting.  
Conclusion
In the meeting spaces productive interactions happen. Meeting room design can impact the participants. Following modern design techniques can help achieve the most out of the interactions that take place in these spaces. Especially if you are a freelancer or work from home then having your meetups in professional meeting rooms can amp up your meetings and get you great results. It's no wonder that professional space will always be a better option than choosing public spaces for meetings. 
Looking for a meeting room in Bangalore that suits your needs? Checkout GoodWorks CoWorks, premium and affordable coworking spaces present at all key locations of Bangalore. So for your next client meetup, directly call us on this number – 8088707700 to book a meeting room near you.