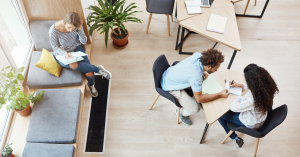 Have you been looking for a well-furnished office space that fits your budget? Well, finding the ideal office at a reasonable rate in the Silicon Valley of India is no less than hitting the bullseye, unless you are comfortable with shared office space in Bangalore. Yes, the traditional office setup has changed, and now we have couches and sofa sets in the office to create a more engaging work environment! With the increasing office rents and decreasing availability of ideal corporate properties, the best you can do is reap the benefits of shared office space. Get a posh location and affordable office in Bangalore without weighing your liabilities! Yes, we are talking about GoodWorks CoWork, the amazing shared office space present at all prime locations of Bangalore. 
Benefits of Renting A Shared Office Space
Shared office space Bangalore serves a range of benefits to the tenants. You can get a mutual work environment that is healthy and not at all intruding with the right service provider. 
Reduced Expenses 
Bangalore is the country's IT hub where finding the ideal corporate space can burn a hole in your pocket. With the shared office space, you get reasonable rents and sufficient space that meet your official needs. 
Well-Furnished Cabins 
A well-furnished cubicle, functional cabinet, and comfortable meeting area can increase the productivity of the employees. Shared office space is organically designed for different corporate needs. So, you get the best aesthetics within an ideally spaced office. 
Networking Opportunities 
Sharing the corporate space with other startups and firms will allow you to observe different work ethics, meet beaming talents and budding minds! You can expand your business networking under the same roof. Supportive work culture is so important for long term growth, after all! 
Event & Meeting Spaces 
Most of Bangalore's shared office space comes with common event halls that are ideal for corporate gatherings. You get corporate privacy and a healthy exposure together! Get your desired workspace without any upfront investment during the growth years. 
Efficient Communication & Networking 
With shared office space, the chances of observing different work cultures increases. Your employees will feel more homely and the opportunity to communicate well with their contemporaries. Get to meet the other tenants during happy hours, networking events, and lunch breaks without having to leave the building! 
Wrapping Up
A Shared office space means an affordable, customizable, and flexible way of working and growing your business. With GoodWorks CoWork, you get your ideal workspace with modern aesthetics and a healthy ambience. Give your employees the freedom to communicate and grow in a mutual work environment!  Want to know more about our amenities and seats? Contact us today!