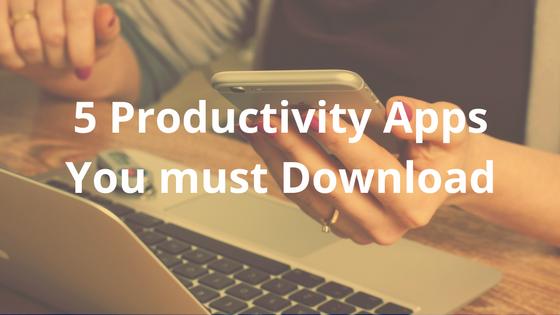 Photo Credit: Dean Colin
Productivity is a very subjective work. For some it means getting work done, while for some it means just being able to focus continuously for 3 hours.
But one of the biggest challenges we face today is being able to provide undivided attention to any one task – be it at work or at home. Though multi-tasking is a skill, in this era of technology and social media distractions, it takes a lot of self control to stay productive.
Here are 5 Productivity Apps that can help you excel at your workplace:
1.Carrot To-Do
We all like to get rewarded for our accomplishments, but how often do we get reprimanded for not doing what we promised to do? The Carrot app is your perfect task master that keeps a track of your daily activities and rewards or punishes you based on your performance.
The app doesn't really encourage slackers, so if you have been thinking of ways to get back to a strict schedule, download the Carrot To-Do app right away.
2. Evernote
This is by-far the best productivity app that is in store now. Evernote lets you quickly store information and allows you to access it from anywhere and at anytime. The ecosystem it creates allows you to quickly share documents and stay on top of things that require immediate attention.
3. Pocket
The Internet is constantly flooded with new content every day. Probably the "bookmark" tab on your web browser has a tons of articles that you liked but are now buried and lost forever! It is just impossible to consume so much content and that is why we recommend that you Pocket it.
It helps you organize all your interesting reads at one place and allows you to get back to them when you have the right head space. Always stay updated without compromising on your work time.
4. Remember the Milk
Lists can be really overwhelming when you have a lot of things to manage. The actual problem in not in completing the list, but in creating the list. Amidst all the big problems, we usually end up missing out on the small things in life. Remember the Milk is a super cool to-do list app that helps you keep track of your tasks and also sends you reminders so that you never miss a thing!
5. Moment
How often do you check your facebook news feed? Once in every 10 minutes? You would be lying if you said NO :)! While Social media is important it is also one of the biggest factors that deters your productivity and focus. The Moment app tracks and helps you set a limit to your phone usage. It automatically sends you a reminder when you overshoot your time. It's all about the small Moments in life, make them matter 🙂
Let us know how you liked our list of productivity apps. In case you have used an other app that has helped you focus and generate results, let us know by writing in the comments section.
Have a Productive day ahead!