Visit some websites, and a significant number of websites will tell you that coworking refers to a shared space for office where freelancers, entrepreneurs, remote workers and anyone who wishes to have access to a fully equipped area can work for a membership charge.
What if we told you that this particular definition barely scratches the surface of what is coworking?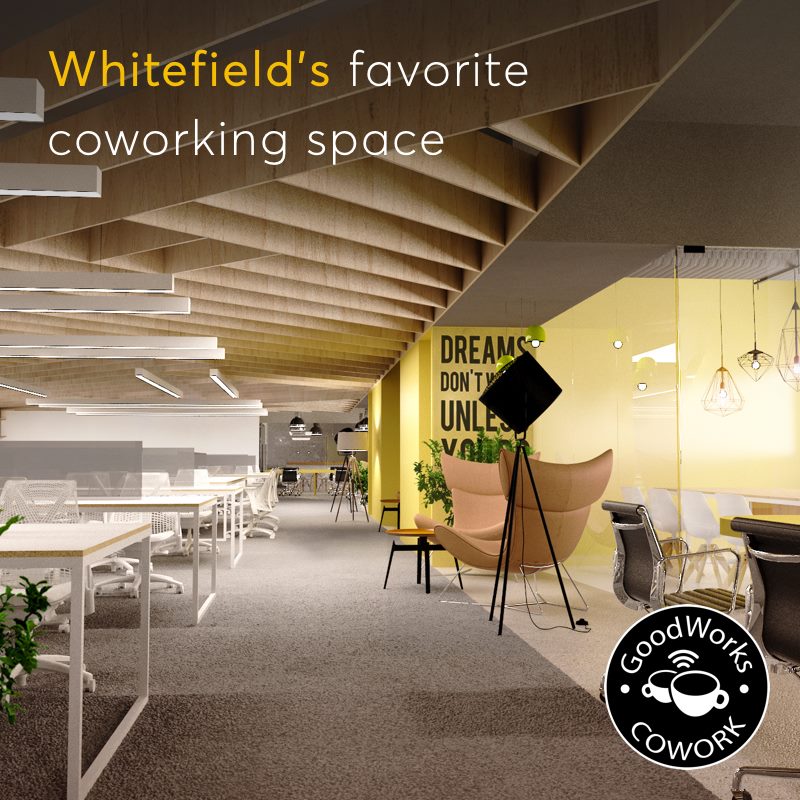 We are a coworking space that provides you with the best of both the worlds- an area to get connected as a community and also keep the corporate ethos of many companies in mind, thereby giving you an ambiance that only will never be the case with our contemporaries without a doubt.
While co-workers all over the globe frequently complain about insufficient and lethargic services at their coworking spaces, we at GoodWorks strive to make sure that any such complaints do not arise and coworkers get to have a perfect time which they spend at our shared offices at different locations.

KEY HIGHLIGHTS OF WORKING AT OUR OFFICES
Working from home is an option for many, but what is undeniable is that running a business or doing a job from home is never going to give you the most optimum level of productivity in any case. This is why it is a home.
And this is why we will always be glad to welcome you in our space, where you can easily avoid the issues of working from home. There are a lot of reasons why suddenly coworking has become a trend.
We do not just have a large area with a lot of desks and chairs and a high-speed internet connection. There is much more to us and what we do, so that you get a space that makes it fun for you to work and increase your productivity, making sure that you complete and deliver your projects by time.
And here we beat the others pretty convincingly. There are a lot of benefits in getting one of our shared offices for running your start-up or businesses successfully.

WITH US, YOU BUILD LASTING RELATIONSHIPS
Our offices help you in building relationships with like-minded people, which turns out to be a crucial factor when you are under the process of building your company. Initial stages will require you to hire freelancers for your work which you cannot complete on your own.
Our coworking space will get you access to a whole team that can suitably take care of all the different aspects of your business. Our fully furnished offices wait for you to get on with your work, keeping your expenses low but looking after every other need that you might have.
You do not need to worry about paying the rent, getting fire insurance, office equipment, and other miscellaneous expenses which come with the commencement of a business.

YOU GET FLEXIBILITY THE OTHER COWORKING SPACES ONLY DREAM OF
If you start with us, you are privy to flexibility which you will never be able to get in any other coworking space. We help you scale your business pretty conveniently, taking care of accommodating more members as your team gradually grows.
We have cost-friendly contracts that range from a one-person business to more than 14 or 15 people in a single team, thanks to our spacious conference rooms for such large groups and events too.

YOU CAN FIND US AT THE PERFECT LOCATION
We just don't rent out space, but we get it designed and ready for you. A lot of attention is paid to selecting the perfect location for our offices. We love to locate centrally so that every one of our shared workers can easily reach office and work in a chilled and relaxed environment.
In short, if you move your business to our coworking space, you enjoy an office address that is in the center of the business district, not to mention very pleasing access to transportation, cafes, and shopping areas as well.
If you think of renting a private office, there are a lot of chances that you will have to give up a great location to keep the rental and utility costs low, which are not good points from a business perspective.

NETWORK LIKE NOWHERE ELSE
Other than our world-class facilities and additional value-added benefits which we will mention ahead, we make it a point to conduct amazing seminars and workshops by technology experts and experienced entrepreneurs who will get you networking like never before.
If you expect a spacious, fun-filled and comfortable shared workspace, you are at the right place.

OUR FACILITIES
The facilities which you are bound to find in all our shared office spaces are-
High-speed internet with excellent connectivity so that you can get through your daily tasks without much fuss.
Secure lockers so that you can keep your valuables safely and worry-free.
Appropriate furniture which lends you the perfect posture, proving assistive in increasing your work productivity and comfort.
An excellent business lounge to carry out your business meetings and even your time.
Full-time camera surveillance for increased security and protection from loss of items.
The perfect number of plug-in sockets for your electronic gadgets and systems.
Electricity backup so that you never lose a shred of your work, and work hours as well.
VALUE ADDED SERVICES
We are the benchmarks when it comes to delivering the best lot of value-added services for coworking.
Our value-added benefits include-
Availability of scanning and printing devices to sort out your logistic problems.
Mailbox facilities for sending and receiving relevant documents related to business, invoices, and cheques.
Advice from technology experts related to funding problems for your business and queries related to design.
After reading through all this, are you still confused if coworking is the correct choice for you? You are welcome to visit our coworking space and look around. Just book an office tour with us, and we will get in touch with you soon!