Being the IT hub and startup capital of India, Bangalore is the front-runner in facilitating the concept of coworking in India. Bangalore features a multi-cultural canvas and allows the integration of various ideas and concepts, making it the fourth-greatest IT sector in the world. 
The demand for coworking spaces has witnessed a significant upsurge in the last two to four years, and Bangalore is the city with the primary share of such locations. Here is a rundown of ten most significant and most popular co-working spaces that are being operated from the Silicon Valley of India.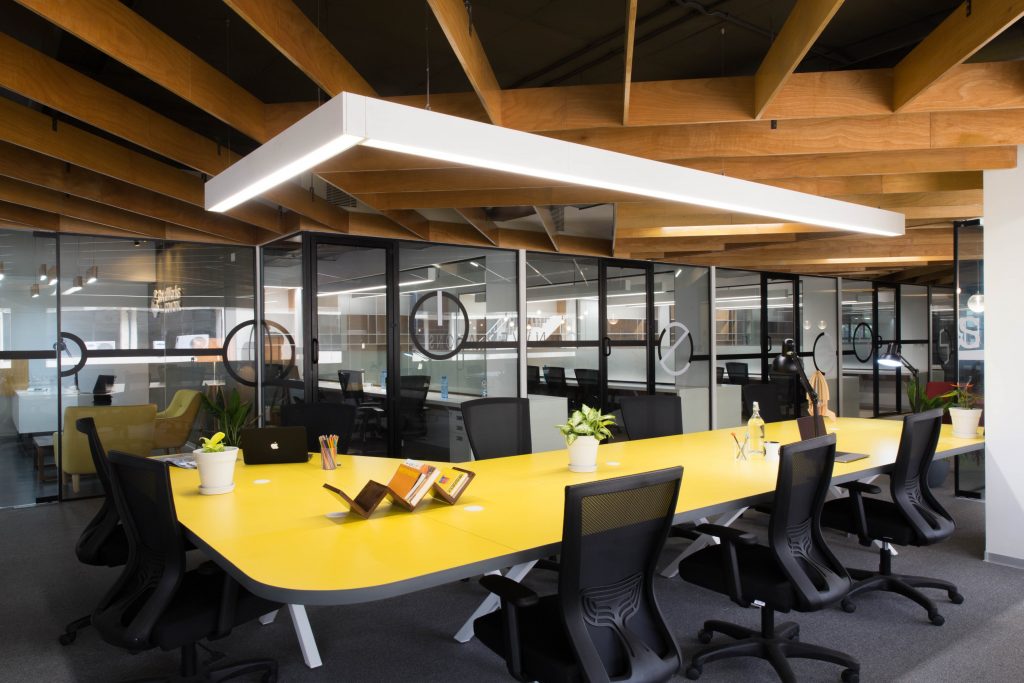 GoodWorks
With 7000+ seats, GoodWorks coworking spaces are undoubtedly the leading and affordable coworking space provider in Bangalore. With GoodWorks, you get premium positioning in a shared office in Whitefield, Varthur, SJR, and Electronic City, and Indiranagar at affordable pricing, which enables business owners to streamline their processes. Whether your team size is 10, 100, or 600, GoodWorks can cater to your business requirements. From private cabins to managed offices and event spaces, global-standard interior design, and best in class amenities, you will find everything that takes your business to succeed. Moreover, with GoodWorks, you get an opportunity to work with the likes of BMW, TESCO, DECATHLON, and many more. 
GoodWorks Cowork coworking spaces locations:
GoodWorks Indiranagar: #968, 12th Main Road 
GoodWorks Whitefield: Akshay Tech Park, Plot No. 72 & 73, Vijayanagar, EPIP Zone
GoodWork Electronic City – Phase 1: GoodWorks Infinity Park, Tower 1
GoodWorks Varthur: No. 72/12, Nallurhalli Main Road, Siddapura, Off Varthur-Whitefield Main Road, Whitefield, Bengaluru
Subscription plans: GoodWorks was launched with startups in mind; therefore, the prices are affordable in spite of world-class amenities. At GoodWorks, you can rent hot desks, dedicated desks, private cabins, custom managed offices, event spaces, virtual offices, and meeting rooms near you. 
Regus
Regus is one of the oldest coworking offices in Bangalore. There are a total of fifteen coworking locations operated by Regus, making it one of the most significant and most expanded coworking spaces in the city as well. These office spaces offer a wide range of amenities, including efficient services, strong support, cafes, security, and excellent maintenance services. You will also get to enjoy ergonomic desks and chairs, that will enhance your productivity levels. Working here is a beautiful adventure, thanks to the splendid and mesmerizing panoramic views from some of its locations. 
Regus coworking spaces locations:
Bommanahalli: 1st and 2nd Floor, IBIS Hotel, 26/1 Hosur Road
Dr. Rajkumar Road: Tejas Arcade, No. 527/B, 1st Main Road, Ward no. 9
Ulsoor: Level 1, Tower B, The Millenia, 1 & 2 Murphy Road
Mahatma Gandhi Road: Level 9, Raheja Towers, 26-27
1 Vittal Mallya Road: Levels 14 & 15, Concorde Towers, UB City
Subscription plans: At Regus, you have plans for desks and private offices; you can avail of a lounge membership as well. You can get in touch with Regus to know to get pricing details. 
91 Springboard
Another wonderfully developing coworking space of the country, 91 Springboard, is one of the leaders of the coworking trend in the country. At 91's coworking locations, you will be stunned by the immaculate interior designing. These spaces host some of the best talents in Bengaluru as you can enjoy essential benefits and services for an array of startups, such as payment solutions and accounting support. 
91 Springboard coworking spaces locations:
MG Road: Gopala Krishna Complex, No. 45/3 Residency Road
Koramangala: 3rd Floor, Padmavati Complex, 80 Feet Road, 8th Block
Koramangala: 4th Floor, No 22, Salarpuria Towers-I, Hosur Road, 7th Block
Bannerghatta Main Road: 3rd, 4th, and 5th floor, #175 and #176, Dollars Colony, Phase 4, JP Nagar
Indiranagar: George Thangaiah Complex, #21, 80 feet road, Near CV Raman Hospital 
Subscription plans: The pricing at 91 Springboard is adjusted as per location and requirements. You can choose plans for a dedicated open desk and open the Flexi desk. In addition, there are plans for cabins and private 2-seater cabins. 
Awfis
If you are willing to strike a perfect balance between work and life, Awfis is your way to go. At Awfis, you will get an opportunity to work in a vibrant and innovative culture. You will also get a plethora of opportunities to network and make connections, along with upgrading your skills with sessions and workshops conducted by Awfis. All in all, Awfis is an excellent place to forward your business. 
Awfis coworking spaces locations:
Begur Hobli Hosur Road: Awfis Space Solution, A Block, 2nd Floor, Dayanand Sagar University, Kudlu Gate, Hongasandra Village
Indiranagar: 3rd Floor, 721, Chinmaya Mission Hospital Road, 1st Stage
Koramangala: 7th Floor, HM Vibha Towers, Hosur Road
Indiranagar: 3rd Floor, 721, Chinmaya Mission Hospital Road, 1st Stage
Begur Hobli Hosur Road: Awfis Space Solution, A Block, 2nd Floor, Dayanand Sagar University, Kudlu Gate, Hongasandra Village
Subscription plans: At Awfis, you get to choose between cabin and desk options, with desk options starting at Rs. 9,500 up to Rs. 12,500. The rates of cabin options can vary depending upon your requirements and locations. 
WeWork
WeWork is another accessible co-working space in Bengaluru with ten office locations in the city. The network spread of WeWork is excellent, which enables you to find a coworking space irrespective of the site you live in. You also get an opportunity to interact and connect with a vibrant community. 
WeWork coworking spaces locations:
Begur Hobli Bannerghatta Road: Salarpuria Symbiosis- Arekere Village
Bellandur: Block L, Embassy Tech Village Devarbisanhalli, Outer Ring Road
Church Street: 62/63, The Pavilion
Subscription plans: You will find different plans at WeWork, with the basic one being the hot desk plan commencing from Rs. 6000, which can go up to Rs. 12,500. If you are looking for a dedicated desk, you will need anywhere between Rs. 10,000 and 18,000 per desk. If you need private offices, you can expect a variation in prices depending upon your location and requirements. In general, a private office location will cost you around Rs. 17,000-30,000. 
Cowrks
If your primary priority with a coworking space is an inspiring and energetic environment, Cowrks coworking space in Whitefield Bangalore is the perfect pick for you. The community of this coworking space will inspire you and motivate you to work harder, which will help you with scaling your business. Talking about the workplace, Coworks offers you customizable offices, vigilant security, and global-standard amenities. Presently, Coworks has six coworking spaces across the city. 
Cowrks coworking spaces locations:
Residency Road: Purva Premiere
Whitefield Main Road: Block 1B, RMZ NXT
Koramangala: 5th Floor, Salarpuria Arena, Hosur Road
Subscription plans: In Coworks, you can get plans for flexible desks and dedicated desks. Membership prices may vary as per location; flexible desks plans are priced at Rs.10,499-12,499, and dedicated desk plans cost Rs.12,499-15,999.
Innov8
If you are an aspiring entrepreneur looking forward to stepping into the business world, you will need two things: space and community. Innov8 offers both: an eloquent coworking space and a supportive community. You will experience a whole new level of workspace environment and collaboration, which is ideal for both startups and enterprises. 
Innov8 coworking spaces locations:
Koramangala: No 3, 20 Main Road, 7th Block, Koramangala Industrial Layout
Subscription plans: Innov8's membership plans vary depending upon the location and requirements. You can choose from hot desks, private desks, and private offices depending upon your needs. 
SmartWorks
SmartWorks is one of the accessible coworking spaces in Bangalore. They have seven co-working spaces across the city.  They offer multiple services for their members like – conference rooms, internet and printing services, sports facilities, creche, concierge services, locker services, a fitness studio, and partnerships across various verticals.
SmartWorks coworking spaces locations:
Bellandur: Global Technology Park
Varthur: 5th Floor, Tower 2, Cessna Business Park, Varthur Hobli, Outer Ring Road, Kadubeesanahalli,
Millers Road: 69/1, Golden Millenium, Millers Road
Subscription pans: Prices start at INR 8,000 per month (differs as per locations). The price is inclusive of all services and facilities.
Wrapping it up
Coworking is in trend, and Bangalore is the city where all of it began. The cost of setting up a new office is hefty, and even if you rent one, you have to pay a substantial amount of money. On the other hand, you can cut down these expenses by searching for coworking spaces near me and renting a desk or office that saves you money and yet provides a bunch of benefits, including exceptional community and beautiful working spaces.