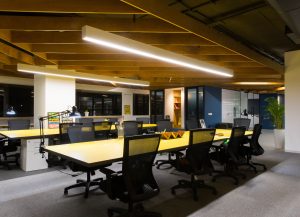 A lot of modern businesses are incorporating breakout areas in their office premises. Besides, it is an excellent idea to increase work productivity among the employees. Now you might ask how? A 10 to 7 desk job can sometimes get really tedious and stressful. If you do not allow your employees to relax, they cannot come up with creative business approaches. After all, creativity doesn't come from a disturbed mind. Apart from this, the office breakout areas facilitate your business in a number of ways! You can collaborate with the best coworking space in Bangalore for this!
How do office breakout areas help a business?
Before explaining the advantages of having a breakout space at office premises, it is crucial to understand what a breakout space actually is. It is an area where employees unwind themselves from their daily work pressure.
And by terms of appearance and decorations, the breakout space is nowhere near the formal office setup. Instead, it's designed in more of a casual style that gives a cozy ambiance. The reasons for investing in office breakout areas include:
Improves team interaction
A business thrives with teamwork. However, if your employees are constricted to their desks and laptops, how can they interact with each other? Interactions encourage teamwork and productivity, which is directly linked to your company's revenue. In order to give your employees the scope to start a conversation with each other and discuss the ongoing projects, setting up an office breakout area is a must.
Maintains a smooth workplace while bringing positivity inside the office
Strict deadlines, work pressure, etc., can make the staff members mentally unstable, which in one way or another affects the workplace. But if you let them take the much-needed breaks, they can smoothly balance everything and expand your business almost in real-time. To put it simply, a nicely designed breakout area brings positivity inside the office, ensuring a smooth workflow.
 Additional workplace
Believe it or not, the usual formal setup inside an office has a high possibility of discouraging your employees. Sometimes the constant ringing on the phone, and loud discussions can really distract your team members, especially the writers. But if you arrange an office breakout area, your employees can get an additional workplace where they can concentrate on their projects and brainstorm ideas.
Promotes mental well-being among the employees
It's your responsibility to take care of your employees' mental well-being. The daily stress at work can really make them tired and restrict them to show up with innovative business ideas. However, the scenario becomes entirely different with the incorporation of breakout spaces. The comforting vibe of the breakout spaces can be the best retreat for distressed employees, and within a few days, you can notice a different work attitude among them.
Improves physical health of the employees
It's not just about mental health; physical health is equally important. A human body is not designed to sit in the same chair for 8 to 9 hours in front of computer screens. It can result in eye strain, backaches, headaches, etc. However, if you introduce a breakout space in your office, employees can move and change their posture. They can also engage in mild activities, which, in turn, boost concentration, reduce mental blocks, and keeps the heart active. In fact, you can also notice a tremendous reduction in medical leaves.
When your employees are mentally and physically fit, possess a positive attitude, and present innovation and creativity in their work approach, your business will automatically flourish. And establishing a breakout space is a fantastic way to bring such changes to your staff members. To get the best virtual office space in Bangalore, get in touch with us! Check out GoodWorks CoWork, based at all prime locations of Bangalore. 
To know more, directly call us on this number – 8088707700 or contact us here.