In today's dynamic corporate world, traditional office spaces are rapidly being replaced by more flexible and inventive work spaces. Coworking spaces, usually referred to as shared office spaces, have become a popular and well-liked substitute for people and businesses looking for a friendly and effective workspace. They are becoming an essential component of the modern work environment, enabling people to realize their potential and advance their careers.This blog explores the many advantages of coworking spaces and how they have transformed the way people interact and work in the modern world.
1. Networking Possibilities: One of the major benefits of shared offices is the extensive networking opportunities they present. People can broaden their professional networks and create useful relationships by working with experts from various industries and backgrounds. Numerous opportunities to meet new customers, partners or mentors are presented through meetings in common areas , community  events and formal networking gatherings, which helps promote business growth and personal development.
2. A collaborative environment: Shared office spaces promote a lively, collaborative atmosphere that encourages innovation and creativity. Coworking spaces bring together professionals from many disciplines under one roof, in contrast to traditional office arrangements where employees are only allowed to communicate with their immediate coworkers. This interdisciplinary environment encourages the sharing of knowledge, insights, and skills, allowing people to adopt new viewpoints and explore creative and new solutions  to problems.
3. Cost efficient and flexible: Shared office spaces allow individuals and businesses to select from a number of membership options in accordance with their needs. They also offer flexibility in terms of lease time. Coworking spaces can meet various desires, whether a person needs a dedicated workstation, a private office, or only a hot desk, coworking spaces can meet various needs.  For startups, freelancers and small enterprises in specific , this flexibility reduces the long-term commitments and overhead costs connected with typical office leases, making shared offices an affordable option.
4. Access to services: Shared office spaces offer a wide range of conveniences and services that help boost efficiency. High-speed internet, printing, scanning, meeting rooms, private phone booths, common kitchen areas, and occasionally even fitness centers or recreational areas are among these features. Coworkers may concentrate on their work and enjoy a well-equipped and professional workplace by having access to these amenities without having to set them up separately.
5. Increased productivity: Productivity can be dramatically increased by using shared office spaces. Working alongside others who share similar values fosters positive peer pressure that encourages people to maintain their focus and pursue excellence. The professional atmosphere of coworking spaces, along with the absence of distractions found in home or coffee shop settings, can boost focus and productivity. Furthermore, a sense of responsibility is fostered by the shared accountability within a professional community, which motivates people to keep up reliable work routines.
6. Work- Life balance: The traditional 9 to 5 office model frequently enforces a rigorous structure that may not suit everyone's lifestyle or tastes. Shared office spaces provide extended working hours or even 24/7 access to meet the needs of a diverse workforce. This flexibility enables people to better manage their personal and professional lives by allowing them to work around their personal commitments. Additionally, coworking spaces frequently include networking events, yoga classes and wellness programs to allow members to partake in activities outside of work and promote their overall wellbeing.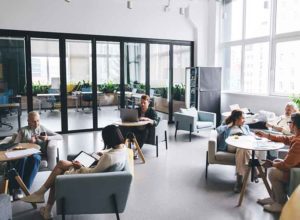 7. Professional Growth and Learning: Workshops, seminars, and skill-development events that support professional development are frequently held in coworking spaces. These gatherings provide employees with the opportunity to learn from industry specialists and experts, improve current abilities, and pick up fresh ones. Coworking environments also promote a culture of knowledge sharing where employees can ask their colleagues for guidance, mentorship, or collaboration. The overall coworking experience is enhanced by this collaborative learning environment, which fosters both professional and personal growth.
8. Geographic Flexibility: Shared office spaces provide geographic flexibility for companies and people who frequently travel or need to have a presence in several places. Members can access workspace whenever and wherever they need, thanks to the network of locations that many coworking providers have across numerous cities and even international borders. Due to this flexibility, there is no longer a need to have a physical office in each place, which lowers expenses and administrative difficulties related to growth or remote operations.
9. Mentorship opportunities: Shared office spaces attract individuals at various stages of their careers. Due to this diversity, there are more chances for mentorship and guidance, as these experienced professionals can impart their wisdom on those who are in need of it. Such mentoring connections can give individuals priceless insights and aid in more skillfully navigating their career trajectories.
10. Access to Resources and Learning Materials: A wide variety of resources and learning materials are frequently available in shared office spaces. Members can use these resources to increase their knowledge and improve their professional capabilities. These resources  can range from online libraries and e-learning platforms to specialist tools and software. Professional development is made more accessible and affordable by the availability of these tools within the workplace, which minimizes the need for employees to make individual investments in it.\
11.  Constructive Criticism and Feedback: People have the chance to get feedback and constructive criticism from their peers in a shared office environment. They can strengthen their skills, identify areas for development and get insightful feedback on projects or ideas thanks to this feedback loop. Such feedback enables people to build a more diverse skill set which helps accelerate professional advancement.
12. Cross-Cultural Learning: Shared office spaces frequently draw individuals from various cultural and geographic origins. This diversity offers a special chance for cross-cultural learning and understanding. Engaging with people from various nations and cultures exposes participants to fresh viewpoints, traditions, and business practices. This cultural interchange promotes global awareness, intercultural competency and a more inclusive and flexible attitude towards professional interactions. 
In conclusion, shared office spaces have developed into dynamic settings that act as centers for learning and professional growth in addition to offering a platform for cooperation and productivity. The numerous advantages they provide, such as  mentorship opportunities, access to subject matter experts in the field, peer learning, skill diversification, personal growth, access to resources, feedback mechanisms and  cross-cultural learning, help individuals within these spaces to continuously improve and grow. By being a part of a shared office space and utilizing these opportunities, professionals can stay on top of industry trends, broaden their networks, and build the skills essential to succeed in today's fast changing workplace.
As a leading provider of coworking spaces, GoodWorks Cowork serves a wide range of businesses and people. Our cutting-edge workspaces promote flexibility, productivity and teamwork. Situated in a number of locations in and around Bangalore, we provide a number of amenities, such as tastefully constructed private cabins, fully furnished meeting rooms and contemporary coworking spaces with high-speed internet. GoodWorks Cowork takes pride in offering cutting-edge amenities like ergonomic furniture, printing services, round-the-clock access and expert reception assistance. Additionally, our lively community events encourage member networking and knowledge-sharing.
We draw companies from a wide range of areas, including technology, the creative industries, finance, and more. Companies like BMW, Cult Cure Fit, Decathlon, South-India Bank, Y Axis, Inter Trust, and others are part of our clientele. The coworking space we provide is the perfect option for workers looking for a dynamic and collaborative office because it can fit a variety of needs.Whether it is to book your cowork office space or learn more about GoodWorks Cowork please visit our website.