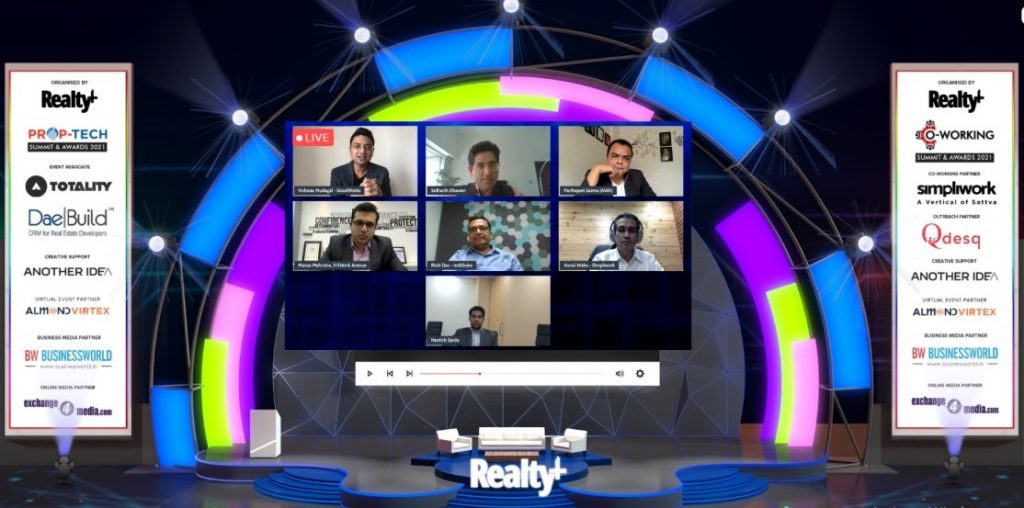 The Realty+ CoWorking  E- Summit held on Friday, January 29, 2021, was a powerful interactive session that discussed the co-working sector and its emergence in this new way of working! The discussion has two rounds. The first one being – "Investor's Paradise – Why Coworking Was Hot Property Among Investors" moderated by Ramita Arora, Managing Director, Bengaluru, Cushman & Wakefield. The second round of discussion being – "The Co-Working Challenge: Converging The Demand & Supply" was moderated by Sidharth Dhawan, Director – Agile Real Estate Lead, Asia Pacific CBRE.  In the session, our MD, Vishwas Mudagal, CEO & Co-Founder GoodWorks Spaces has deep-dived in some of the eminent coworking aspects and how businesses can face the new normal way of life!  
Here's a glimpse of Vishwas Mudagal's view in the discussion with other coworking CEO's in the coworking session. Under his guidance, Goodworks Spaces continue to be the primary choice of coworking space in Bangalore. Read on to know what Vishwas has to say and what makes GoodWork Spaces stand ahead of its competitors. 
Edited excerpts of the discussion: 
Sidharth Dhawan (SD): How has the role of the office evolved post-covid? Is the physical office still a requirement?
Vishwas Mudagal (VM): Covid has turned things upside-down. Something like this had never happened before, covid made people rethink how to manage without a physical office. Different segments reacted to this divergently. Majority of the IT companies, which are our key customers, realised they could work remotely with almost the same level of productivity, whereas Non-IT companies somehow managed briefly, but had to return to office in a reduced capacity.
Some IT companies have scaled down the offices and have taken up smaller Flexi offices. The smaller offices will meet the needs where there is lab/hardware dependency or IT infrastructure personnel or accounts team, etc. Startups are completely managing from home-offices. I see people trying to sublet their offices as well for the short term.
But all of these are short-lived! As situations are coming back to normal and given that the vaccines are now out in the market, companies of all sizes are now planning to come back to the office.
Roster method. Yes, many companies follow it. So the teams that are required, they take turns – for that you need a smaller office. So a 1000 employee company, now needs only 200 seats for the next 1-2 years. And they will see how things will go. That's why they don't want long lock-ins.
So, yes physical offices are here to stay, but the formats are going to be smaller – a network of offices even, depending on when and how employees would like to mingle and discuss.
SD: What demands do tenants have from coworking/flex space in the next 3-5 years? (e.g. health and safety, cost, privacy, etc.)
 VM: Companies have the opportunity to rethink office spaces from scratch. They can even customise it to their company culture or business objectives. Something they could have done before, but as said, it's better to be late than never!
A network of offices or a few pods working from a few locations. Rather than taking 500 seats in one location, take a smaller office in multiple locations – with great network connectivity and collaboration tools. Few teams will continue to be remote. That's a possibility.
But along with it, privacy is a major concern – because you don't have control over employees in remote areas. So keep a check on IP, NDA, etc.
SD: How are coworking operators evolving their product and price mix to meet this evolving demand? (for e.g. on-demand memberships, virtual office, etc.) 
Virtual offices have been the hit of the season in 2020 and it will continue to be. The reason being many small companies don't need offices but they need an address for registration and GST purposes.
Coworking operators can also focus on Memberships and Roaming options for customers so that it gives the flexibility to operate out of any office. 
Members are expecting much more than just office space, they want benefits such as free Amazon AWS credits or discounts on productivity tools or services, etc.
SD: How are coworking operators evolving their growth strategies in the light of evolving demand (for e.g. secondary locations v/s CBD; choice of cities; grade of buildings; deal structures) 
VM: Deal structures, Lease, Revenue Sharing, Franchise Model – will pick up, Aggregator Model. The sector will attract a lot of investments in the near future. Although it's slowed down recently because of the pandemic. Operators have to be present in all key micro markets – it also depends on how your strategy is. For example, Goodworks primarily targets secondary and tertiary districts with larger spaces with 1000+ seats.
Grade A and B+ infrastructure will continue to rule because most companies require compliant buildings. They offer great products, facilities, amenities, etc.
I have had a lot of discussions on smaller cities, but it's still in nascent stages. People are not aware of coworking concepts in smaller cities like Mysore or Hubli for examples in Karnataka. Covid has perhaps pushed the adoption by a couple of years.
Read more: GoodWorks Spaces in partnership with Amazon brings exclusive benefits for start-ups