If you ask what is the most efficient way of working for self-employed people, the answer would be co-working.
Once started as a way of getting workspace for freelancers and entrepreneurs, today coworking spaces have become one of the most effective ways to make the best of your time and increase productivity. Real estate businesses have been getting the most out of coworking spaces, as it the most trending workspace culture today.
In the last few months, we have observed an evident change – startups, entrepreneurs, and even large companies are moving to co-working. Why? What is the big deal about coworking? Why should you consider it?
The answer to the question is quite simple. Coworking is beneficial in many ways. In this article, we will highlight the top five reasons why you should consider working out of a coworking space. But, before that, let us get a clear understanding of coworking actually means.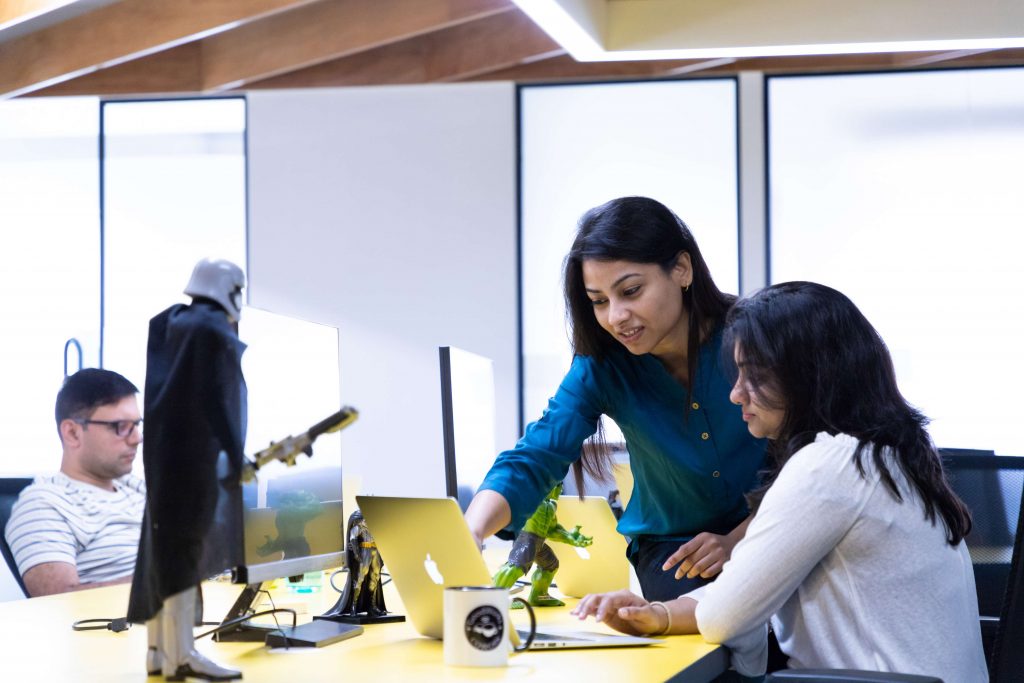 Coworking definition
By the term "coworking", it is easy to guess that it means working together. But, there's more to that. It is not only a term to describe working together. Coworking is an alternative to working at home or office space. It is when a group of hardworking and passionate people work together in the same working space. That is what brings positivity and increases work productivity.
Reasons why people are switching to coworking
Coworking does come with a lot of benefits that individuals and groups can take advantage of. One can switch to coworking for personal or business-related purposes. Here are the top 5 reasons why startups, entrepreneurs and large companies are moving to coworking spaces.
1. Coworking space has all the necessities
An office does not only consists of rooms with chairs and tables. There are different spaces like conference rooms, meeting rooms, open space, event space, cafe, etc. A coworking space is not just a small space where everyone sits and does their work. An ideal co-working space should have workspace, conference room, food, space, and other important spaces related to work. With this feature, anyone can bring balance to their work and personal life. Some perks come with a co-working space, and they are:
Meeting room
Most workspaces consist of a meeting room. It's a place where a group of people can discuss a topic without getting disturbed. Coworking spaces have beautifully designed meeting rooms so that you can have a chat with your client, in a professional yet calm environment.
Conference room
Video conference has become one of the most used ways of communication for businesses. Startup as well as medium and large companies which join coworking space always look for a conference room where they can communicate with their clients and employees.
Health centre
Even though a lot of coworking space in some countries does not have a health centre, it is an important feature for a working space. A place where you can workout is a good way of getting rid of the fatigue you get from sitting and working for too long.
Grab and go food place
Food and coffee places give you a refreshment between the working hours. That is why coworking spaces have grab and go food service where you can have a good meal. Some coworking spaces even have gourmet cafes where the workers can go and chilling post their work.
High-speed internet
This is a must-have feature for co-working spaces. All people who work need the internet. Any mediocre internet connection is not suitable for a workplace and that's why coworking spaces have a high-speed internet connection for you to work seamlessly.
2. Cost-effective
Having all the things that you need for a workplace can put you in real financial trouble. To keep your pocket heavy and get the best out of the workplace, you can join coworking spaces. The fee is small compared to a traditional office space.
All the people working in a coworking space, pay together to have a professional shared working place. When you are starting a company, you need to find the most cost-efficient way of taking care of your company's necessities. Office space is a company's necessity which can be filled with the cost-efficient way – choosing coworking spaces over traditional offices.
Does coworking space have all the requirements for your work? Yes. High-quality coworking spaces have one of the most talented people in your city who are working hard to pursue their dreams. They also have requirements for working space and a co-working space is indeed providing them with all the necessities.
If you are an individual freelancer or entrepreneur, you can decrease your costs by choosing a coworking space that fits your budget.
3. Networking facilities
In a coworking space, many people are working whose talent or skills can be useful to you. It is hard nowadays to find the best person for your work but when you are in a coworking space, you can pick the right person by seeing how they work. It is also a great way of finding new clients. Your coworkers may have a lot of clients and you can get recommended by them for working on something you are interested in. It is a great opportunity for people who are trying to earn experience and clients.
All in all, a coworking space is a great place for finding new clients or employers. It provides a great networking facility where you can meet the right people. When you are surrounded by high-level professionals, it is not a rare thing that you get connected with the right person. You never know who is going to come through the door that can have a huge impact on your business. Individuals, startups, and large companies can benefit from this opportunity as they are constantly looking for talented people and perfect clients.
4. Flexibility and productivity
In an office space consisting of rules and regulations, it is not possible to be flexible with your working time. For example, maybe you have to work tomorrow during the day. But the next day, you may want to work at night. This is possible in a coworking space where you have full control over your work. Increasing flexibility makes people happier with their job and income. Very few of us can go around with the rules of the office. That is why coworking space is a perfect place for freelancers and entrepreneurs since they have no fixed time of working.
Doing a project at home can be very tough at times. This happens to many freelancers or entrepreneurs who work at home. They constantly get distracted from work due to many things. This results in low productivity. But when you are in a coworking space, you will look around and see people working hard without focusing on anything else. That should inspire you to give complete focus on your work thereby increasing your productivity. This is the very first thing you will experience in a coworking space where everyone in on a pace and you will also try to join their pace of productivity. Also, being highly flexible allows you to take rests which is important.
5. Increased happiness and less loneliness
Working at home sometimes can be boring and one can feel lonely. This can have a bad impact on your mental health and can also discourage you to work properly. In the end, you will not be very happy with your work. You can cancel out this feeling of loneliness when you are working in a coworking space where you have the constant company of people who are also working as you.
It is far better than working at home and if you are running a large group, you can get the most out of your employees when they are working in a professional environment and are very happy about it. That is why, no matter how big or small a company is, it is suggested to choose coworking space since it comes with a lot of benefits that can positively impact your company's future and revenue.
Conclusion
The above points highlight how beneficial coworking can be – not only for individuals but also for large and small companies. There can be several good coworking spaces near you where you can join and work with some passionate people and learn new things. If you haven't already given a clear thought on coworking, it is the time that you do so.