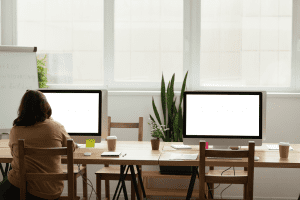 Your health takes a toll from being stuck to the screen the whole day long. Be it working from home or working from a coworking space we've sourced advice for helping you thrive, in this digital age. So no matter where you are working from, your health will always be with you to support through thick and thin!
From the onset of the Covid-19 pandemic, this work from anywhere model has skyrocketed. And companies have realized it too. This has resulted in a spike in 'digital nomads.' With more and more entrepreneurs and SMEs choosing to work remotely, it has enabled them to enjoy the perks of a new culture while still having financial security. Individuals now work from home or even better, are choosing the coworking way of life. However, as the technical roles are increasing and people have to sit long hours in front of the screen, it proves detrimental to health. So for people new to this lifestyle, here is our list of tips to follow – 
A healthy body and a healthy mind are interlinked
Studies confirm that fitness is linked with increased productivity and creativity. It also reduces stress levels, and even provides greater work satisfaction. So prioritize your fitness during the working week and start the day by doing something physical, whether it's a simple stretch routine or quick cardio. If you don't have access to a gym, have an alternative exercise plan which doesn't need equipment, such as running or yoga. Alternatively, you can also take help of the various fitness application that gives online training. 
Stick to a routine
Employees that work remotely have often to stretch the working hours longer than the usual office timing. This is something that, if left unchecked, can lead to burnout. To combat this, you should know how to manage your time well and stick to a routine. Even when working in a different time zone to your colleagues, it's important to keep to a routine with set working hours, and factor in plenty of downtimes to enjoy your 'me-time.'
Create your own schedule
For many, being able to earn a living working from anywhere in the world is a life goal – Working remotely takes plenty of self-accountability and discipline to get the work done. Having no manager over your head that pushes you to do the work, you need to take up the responsibility of your work. Using a coworking space, such as the GoodWorks Coworking spaces helps you further to concentrate on your work without distractions. It also takes away the hassle of finding good WiFi and a quiet desk, plus it immediately puts you in a professional mindset.
Once on the desk, draw up a schedule to help you be productive, efficient and focused. If you're most productive early in the morning, plan your tasks accordingly. Start your day with the most important tasks, then ease off in the afternoon.
Stay Active
Don't sit continuously for long periods of time. Rather take short breaks and get up from your chair. Be it for a cup of coffee or talking on the phone. Try to walk in between that will help your legs to stretch and help you stay active. Also take great care of your posture. Sit straight and keep your screen at eye level. Make sure the chair is ergonomic. Like in GoodWorks coworking spaces the furniture is made keeping in mind all these points. 
While it's tempting to work while lying down and slouching, but it is not good for your body if done continuously. Make sure to take good care of your health. A 10 min walk after lunch will help you in the long run. 
Don't forget to socialise
One of the more unspoken issues of life on the road is loneliness. When you're working remotely, it often happens that you feel lonely. It becomes hard to make friends and maintain a social life. Consider going to a coworking space that takes care of your mental health. Many coworking spaces have networking or social events held regularly in their locations. It helps you socialise with like-minded people and keep loneliness at bay.  
With our coworking spaces, we aim to provide you the best comfort and environment to stay super productive all day long. Find out how Spaces can help manage your coworking lifestyle. Contact us here!