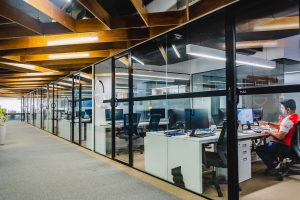 The raging Covid-19 pandemic has undoubtedly made an impact on the way we live. Employees around the world have suffered from ongoing crises – mentally and physically. Apart from physical health implications, the added stressors have made life infinitely more difficult. Add to that the lack of socialization and remote work from home concept, employees have to start to feel the stinging pressure of burnout. In that case, it becomes the responsibility of the organization to take care of the well-being of the employees.
How to ensure the physical and mental well-being of employees during these trying times?
There are different ways business organizations can attempt to establish the well-being of their employees. Take a look –
Keep the channels of communication open
It is crucial to ensure that your employees feel that they are listened to. For that, you need to maintain a seamless line of communication. Here, employees can contact and find information related to various health issues. You need to establish a hotline or appoint someone that can guide your employee concerns.
Collaborate with health service providers
Numerous healthcare service providers are partnering with corporate organizations to provide medical assistance. You can hire a 24/7 consultant offering teleconsultations in different areas. For instance, they can provide information on covid testing, medicines, etc. With these collaborations, companies can offer critical care support too.
Offer flexibility in the working hours
Working from home and balancing other tasks is not an easy feat. In some circumstances, you need to be considerate and offer flexibility in their working hours. That is the only way to retain employees and make them feel motivated.
Establish boundaries of each work day
The blurring of working hours can negatively impact the employees. For that, promote a morning conversation over tea or coffee and discuss the entire working day in the end. That way, employees won't feel that they are living at work.
Sure, your company offers medical insurance. But some employees might be in need of financial assistance for other issues. For that, you can establish a support fund to assist employees that have nowhere else to get help from. There, you can cover all covid-related costs. It is important that you make your employees feel secure.
Rearticulate company values
If the pandemic has taught us anything, it is that it is time to revisit the company values and policies. See if the current need of the situation aligns with the company's practice. If it doesn't, you need to incorporate policies that benefit employees in this crisis. However, if it does, make sure that there are no gaps.
Impart motivation and resilience
It is natural for your employees to feel demotivated and zapped out of energy. On those occasions, it becomes your responsibility to ensure that they get the energy boost needed. Be empathetic to their situation and offer meaningful suggestions to overcome the obstacle. Offer words of motivation and plan a better future for your company and employees.
Conclusion
These are the different ways organizations can take active steps to ensure that the employees are in optimum condition. With this lethal pandemic taking over our lives, one of the best solutions is to opt for coworking. Here, one can follow the covid protocols while maintaining interaction with others. However, you need to choose the best coworking service provider for maximum benefits and added safety. Contact one of the leading coworking spaces in Bangalore, GoodWorks Cowork. Located at all the key locations of Bangalore, GoodWorks offers you the best service and amenities of a coworking space. Visit your nearest location and get a free trial day now!
You can contact the team here.