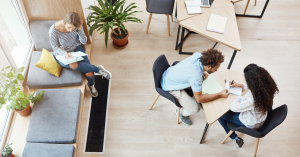 One of the best alternatives to work from home model, coworking space allows professionals from different fields to coexist in the same space. Here, various individuals book spaces and work as per their schedules. It is the flexibility and availability of numerous resources that make coworking space all the more popular. With various professionals from different companies, the diversity in the working space is unbeatable.With the rise in popularity of new work models, coworking spaces have gained mass appeal. This begs the question – "What is a coworking space?" and the reasons that explain why professionals seem to gravitate towards it. If you are wondering coworking space is the right solution for you or not, then you can take a look at the things mentioned below. There are numerous types of coworking spaces, differing in size and shape.
The rising demand for coworking spaces is clearly indicated in the statistics listed here. The market size of coworking space is predicted to reach $13.03 billion by the year 2025. The number of coworking spaces is estimated to cross more than 40,000 by 2024. The coworking members are expected to cross the 5 million mark by 2024.
People choose coworking spaces as it provides various benefits. Let's deep-dive in the benefits of coworking spaces – 
There are various benefits that one can gain from choosing coworking spaces. These are –
It helps in increasing work productivity
The highly diversified working environment works as an excellent motivator. With coworking spaces, you can improve work productivity to a great extent. Moreover, professionals can choose from a wide range of spaces.
It helps to reduce loneliness
Working from home takes a toll on your mental health once the temptation wears off. In contrast, coworking spaces offer social interaction with other individuals. Moreover, you can also attend various events and make personal connections.
Helps in building a professional network
Apart from developing personal bonds, events and seminars provide the perfect opportunity to build your network. Here, you get to meet professionals from different fields and interact with them.
Offers an excellent work-life balance
Other drawbacks of working from home include the constant distractions and the inability to log out. With coworking spaces, you can maintain the perfect work-life balance without your professional life becoming monotonous.
Various options available
The best coworking spaces offer a wide array of working spaces. For instance, you can choose hot desks or conference rooms based on your business needs. Moreover, you can also opt for cubicles or dedicated desks.
Flexibility is a vital factor that makes coworking spaces popular among freelancers and companies alike. Here, you only have to pay for the space you rent. Moreover, the flexibility in the working schedule is also beneficial. Apart from this, you get a space fully equipped with different resources.
Is coworking space the best solution for you?
There are various aspects of coworking spaces that you need to know to decide if it's best for you. Are you worried about the stagnant feeling at work? Do you feel lonely working from home? In that case, opting for the best coworking space is a great idea. Here, you can interact with other professionals, build a network and improve work productivity. However, for maximizing your work potential, you need to choose the best coworking space company. Check out GoodWorks coworking space in Bangalore, it is completely designed keeping in mind that people get utmost comfort while working and the space adds app the productivity. So what are you thinking? Book our coworking spaces today!