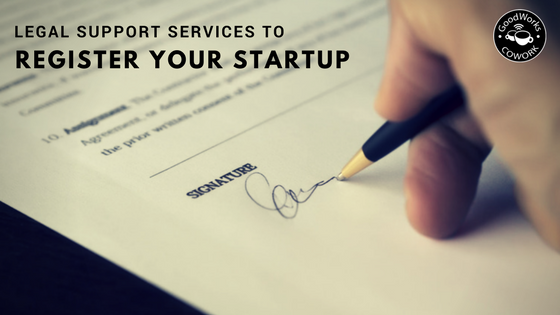 Paper-work is time consuming and a hassle. With the stress of sales, marketing, pitching, hiring, it becomes really troublesome for startups to also focus on registering their company and getting the legal support services in place. Over the past couple of months, we at GoodWorks CoWork have worked with several startups to register their companies, protect  intellectual property and comply with all the rules and regulations of the government.
Our cost-effective, startup-friendly prices will allow all startups, including freelancers take up legal advice for their services. We also provide a one-time free consultation so that the startup can understand what all are the requirements and where exactly they would need our support.
Here's a list of some of the legal activities we can take up to help you get started:
Business Registrations
New business owners in India must register for the following before starting off their business. Along with legal registration there are also various taxes and licenses that need to be applied for. At GoodWorks CoWork, we work closely with our members to get all this paperwork in place, so that the company becomes a legal entity recognised by the government.
Listed below are some of the documents that new businesses need to have in place:
1. Apply for DIN ( Director Identification Number) and DSC ( Digital Signature Certificate)
2. Company name approval and Incorporation Certificate
3. Submission of Supporting Documents like consent letter from Director of Companies, signed and scanned copies of MoA ( Memorandum of Association) and AoA (Articles of Association) among otheres
4. Application of PAN ( Permanent Account Number) and TAN ( Tax Account Number) for the new company
Additionally, we also provide consultation related to employee laws, filing for trademark protection and getting all legal licenses in place for running the business.
Some of the licenses that need to be procured be new businesses are:
Registration with the Office of Inspector, Shops, and Establishment Act
Registration with the Employees' Provident Fund Organisation if you have more than 20 employees
Registration with the Employees' State Insurance Corporation, a social security scheme to provide protection to workers in the organized sector and their dependents in contingencies such as sickness, maternity, death, disablement, or occupational disease.
Some of the requirements may vary depending on the type of business and the state in which the business is being registered. It is important to understand these nuances clearly and proactively take educated decisions so that there are no hurdles in the daily operations of the business.
Let the GoodWorks CoWork team guide you through all these procedures so that your business gets a smooth and easy launch!
Call us at 8088707700 or email us at [email protected] for more details.