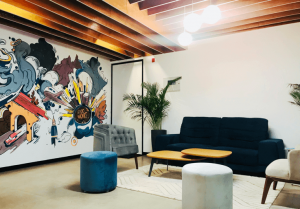 With the advent of technology, workplaces have undergone massive transformations. With an overall objective to increase efficiency and productivity, office spaces have become compact and personalised. "Workplace wellness" is important in any organization as it directly affects the productivity of the team members. For this, office ergonomics is vital. Ergonomic office space means all the components in the workplace are placed in a way that's most beneficial to those using them. Ergonomics is vital to the functioning of an office. It directly affects efficiency and morale in the workplace. 
While the best coworking spaces have ergonomic space that enhances health and helps in improving productivity. You can also take certain measures that will enhance health and improve wellness in the workplace. Let's deep dive into it – 
Have Good Seating Arrangements
Having a good posture will automatically boost the productivity of a person. With awkward seating positions, can affect work and accuracy of the tasks. By having ergonomic office chairs for employees. Investing in good seating will turn out to be rewarding in the long run. It will prevent workplace injuries and keep employees efficient for a longer period.
Have Good Adjustable Desks
Adjustable desks are the best options as they suit the requirement of every body type and can be modified as and when needed. Improper desk height can cause one to adopt an uncomfortable posture, thereby putting stress on the body including the extension of the neck and hands, hunched shoulders, or a slouched back. This can even cause exhaustion, muscle pain, and soft tissue fatigue. As sitting for long periods of time is also harmful, switching between sitting and standing positions is a good method to avoid fatigue. 
Maintain Appropriate Alignment With Your Computer 
The positioning of laptops and computers are vital to the success of an ergonomic office.  The system should be kept such that the top part of it, is at the same level as the eye, and is above the keyboard, so that there is no strain placed on the neck. The mouse and keyboard should be accessible without stretching the hands. 
Use Adjustable Arm and Backrests
Always go for chairs that have armrests that support the mass of the arms and position wrists correctly and backrests to support the neck and spine. Desk job involves a lot of time in active sitting, so it is essential that their limbs and backs are given adequate support to prevent long-term muscle pain and catches. Without adequate support to the back and the arms can cause strain on different muscles, including the fingers, which have to adjust while typing constantly. 
Ask Employees For Feedback 
The ones who are using things can give the best feedback, hence it would always be the best to reach out to the employees for their valuable input. As each working environment has different issues that need to be addressed, it is the best thing to directly connect to the very people who might be affected by them and get to know what changes are to be made and what issues need to be prioritized.
Conclusion
For improving employee wellness, ergonomics is the utmost necessary ingredient of any office space. However for small and mid-sized organizations, changing and revamping the whole space is not easy and can be a costly affair. The best alternative to it is choosing a coworking space that has everything to keep the productivity levels of your employees high. So what are you thinking? If you are residing in Bangalore, then go and checkout GoodWorks CoWork's coworking spaces in Bangalore. The lively atmosphere, multiple desk options to choose from, meeting rooms for team meetings and seminars, you will get everything here. The furniture is ergonomic and other amenities will add-on to increase the productivity levels of employees. For more details,  Contact us here.