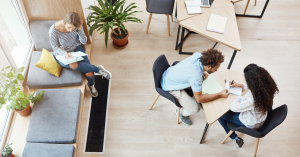 With the onset of the technological revolution, workplaces have changed tremendously. From conventional work booths to flexible, open spaces, offices have altered their appearance and presence drastically over the last few years. People are no longer satisfied with working mindlessly without any concern for health and a positive lifestyle. In order to meet the demands of the latest workforce, making some necessary changes is absolutely vital.
Tips for changing the workplace to satiate employee needs
There are various ways you can make sure that your employees feel comfortable in the office space. It is imperative to understand that comfort, freedom, and access to technology are crucial to increase work productivity.
Take a look at some steps that you can take to meet the ever-evolving employee needs –
Adopt the open-plan design
With glass walls and partitions, employees tend to feel suffocated. On the contrary, opting for an open office is an excellent idea. You need to motivate your employees to work without any stress or hassle. With an open area, it becomes easy for people to communicate and ask for each other's opinions. This, in turn, will improve work productivity even more.
Let the employees decide what they want in the workstation. Get rid of the unnecessary business books. Only provide the essential gadgets needed and give employees the freedom to organize their desks. It will give them freedom and confidence.
Integrate the space with the latest technology
In today's era, technology has become a vital part responsible for company success. For instance, telephone systems, team management solutions, logistics software, etc. are essential for seamless working. With technology, developing a productive working environment is easy and hassle-free. Moreover, integrating the tech essentials into the employee desk is crucial. You need to make sure that they have everything they need.
Making sure that your employees feel safe is crucial to maintaining work productivity. It is vital to understand that not all employees operate the same way. Some of them may be introverts that prefer a quiet space to work. Moreover, you also need to offer a private place to conduct important meetings or design an impromptu presentation. That is why the office space needs to have both private booths and open spaces.
Set aside a space for relaxation
It is not possible for employees to work constantly. They need a few minutes to relax and unwind. For that, you need to make sure that there is a well-equipped rec room. In this space, you can install comfortable lounges and chairs so that your employees can sit here and gain some relaxation. If you don't have extra space in the office, you can convert the roof of the building.
Focus on the health of employees
It is imperative that you pay special attention to the health of the employees. For this, make sure that the interior of the office has appropriate natural sunlight and proper ventilation. Employees no longer want to work in a place that can hamper their physical and mental well-being. Moreover, you can also add some greenery to the space and liven up the atmosphere.
Conclusion
These are some tips that you can assist in evolving the workplace efficiently. It is crucial to understand that the more inspired and valued the employees feel, the harder they will work. Ultimately, it will lead to overall profits for the company. However, for that, having the right work environment is really needed and for it choosing the right working space is of paramount importance. Check out GoodWorks coworking space in Bangalore, it is completely designed keeping in mind that people get utmost comfort while working and space adds to their productivity. So what are you thinking? Book our coworking office space today!