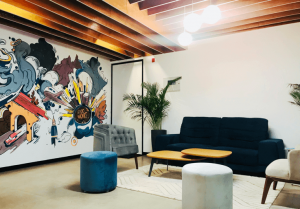 The worldwide pandemic and the lasting after-effects have undoubtedly made a massive impact on different industries. One such trend that gained tremendous traction is the work-from-home culture. WFH or work-from-home had previously dealt with multiple misconceptions. However, the onset of the covid-19 compelled business organizations across the globe to adopt this working culture. 
But, work from home also comes with its own set of perils. These include lack of proper resources, network issues, feelings of loneliness, and the absence of a working environment. Here, the solution is to bridge the gap with a potent solution – coworking spaces. 
Can coworking spaces provide assistance to the WFH culture?
Apart from the financial impact of the vicious pandemic, the employees too will be unwilling to go back to the conventional office routine once again. The rigid timings and excessive rules might impact work productivity negatively. To combat the situation, business organizations are choosing coworking spaces. It provides a wide array of amenities for the employees and comes at affordable pricing, making it profitable for business owners too. 
What is a coworking space?
A coworking space is basically a workspace where different individuals from the same or different companies work independently. These spaces are characterized by numerous facilities, tools, and services. The rise of coworking spaces has been phenomenal. In fact, experts are of the opinion that the coworking space market will take up 30% of the commercial real estate space by 2030. 
Advantages of coworking spaces
There are multiple benefits one can get from using coworking spaces. Take a look at some of them listed below –
One of the biggest benefits of coworking spaces is the flexibility that it offers. Here, the lack of strict guidelines makes it incredibly appealing to employees. There are no pre-set timings or biometrics that compel employees to rush for work. In fact, some coworking spaces are open 24/7. That means you can work till early morning, get the project done, and take the rest of the day off. 
Work from home might sound appealing initially. But with time, the loneliness and lack of interaction with others create an effect on work productivity. It also impacts mental health. Human beings are social creatures and are not designed to be alone. That is why interacting with others while working improves work efficiency. Coworking spaces offer this opportunity by enabling individuals to interact with others while working. Interacting with others also boosts your creativity and allows you to form fresh ideas and concepts. 
Another crucial aspect of coworking spaces is the opportunity to network. It is impossible for a professional to grow unless they connect with like-minded individuals. Moreover, developing connections with other professionals can eventually help you in furthering your career. 
Coworking spaces offer basic amenities. These include Wi-Fi, office furniture, snack room, etc. Access to these facilities makes it easy for individuals to work without much hassle. Ultimately, it aids them in increasing efficiency, allowing the company to attain more profits. 
Conclusion
It is evident that the business world has changed irrevocably since the onset of the pandemic. Transitioning back to conventional office spaces might not enhance productivity for the employees. As a result, the business growth would suffer drastically. Here, the best solution is to adopt a solution that bridges the gap between traditional office work and the WFH culture. Coworking spaces offer the best of both worlds with a wide array of features. These are lucrative for business owners and extremely beneficial for employees. However, it is vital to choose the best coworking space for excellent results. 
So what are you thinking? If you are residing in Bangalore, then go and checkout GoodWorks CoWork's coworking spaces in Bangalore. The lively atmosphere, multiple desk options to choose from, and meeting rooms for team meetings and seminars, you will get everything here. The furniture is ergonomic and other amenities will add-on to increase the productivity levels of employees. For more details,  Contact us here.