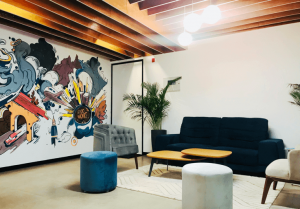 Coworking spaces give companies tremendous benefits over a conventional office, the foremost one being a significant reduction in overall cost. Coworking spaces have taken over the traditional office spaces to become the new workspace for professionals worldwide.  The most substantial expense for starting up any new business is to set up office space and the necessary infrastructure, but the shared office spaces have eliminated this burden. As remote working has become the new normal, coworking spaces, have taken up a prominent place.
Let's delve deeper into the advantages that coworking spaces have over traditional offices – 
The Best Alternative to Work From Home
Working from home has its perks, but we cannot deny that working alone becomes dull and lonely most of the time. In contrast, a coworking space surrounds you with other working professionals that significantly reduce the dullness. With people working all around, a coworking space's lively environment adds up a dose of motivation to your day. 
What's even better? You can get access to much more space than just your hot desk, as and when you require it. The lounge and cafeteria are open for all at all times. You can even take up the conference or meeting room for team meetings. Altogether, there is no dearth of space!
You Get Networking Opportunities 
Coworking can help you build meaningful connections with other people. Working alongside other businesses gives you a real chance to interact and build your network. You get to collaborate with new people and even business leaders. The various events and seminars organised at coworking spaces also help to build relationships and gain industry knowledge. All in all, working from a coworking space creates an excellent chance to grow and network. Who knows, you could get your next big client in the shared office space that you are working. 
You Get Various Perks & Benefits
A coworking space comes with its own perks such as high-speed WiFi, unlimited beverages, snacks, networking events, fun activities, etc. Millennials want a workplace with all such facilities in a high-spirited environment than just a simple space to work. Providing all these facilities is not possible for businesses that are on a tight budget. Hence, choosing a coworking space gives you both – a professional workspace, along with multiple perks.
You Get Free From Administrative Work
In a coworking space, you do not have to worry about the basic administrative tasks. All you need for operating your small business is already available there, such as WiFi, copiers, printers, telephone services, etc. This, in turn, saves a lot of time that goes on administrative tasks while setting up or working from a traditional office. 
Gives Better Flexibility to Employers and Employees
Coworking spaces are a big hit among people today as it saves a lot of time wasted on commute. Nobody wants to get stuck in traffic jams for hours; the best solution to it is a coworking space near your location. For example, GoodWork CoWorks has coworking space in all the prime locations of Bangalore. You can choose the one near to you and save yourself from getting stuck in Bangalore's traffic. Check out your nearby location here. 
Summing Up
Coworking spaces will continue to be a part of the modern working world. As the workplaces are evolving, people are not looking for a place just to work; instead, they opt for a place where they can collaborate and socialize with other individuals. It also comes with significant advantages over traditional office spaces, making it popular among millennials. If you want to beat Bangalore's traffic and find an awesome coworking place near you, reach us out, we have the most amazing coworking spaces at Bangalore's prime locations. Contact us here.