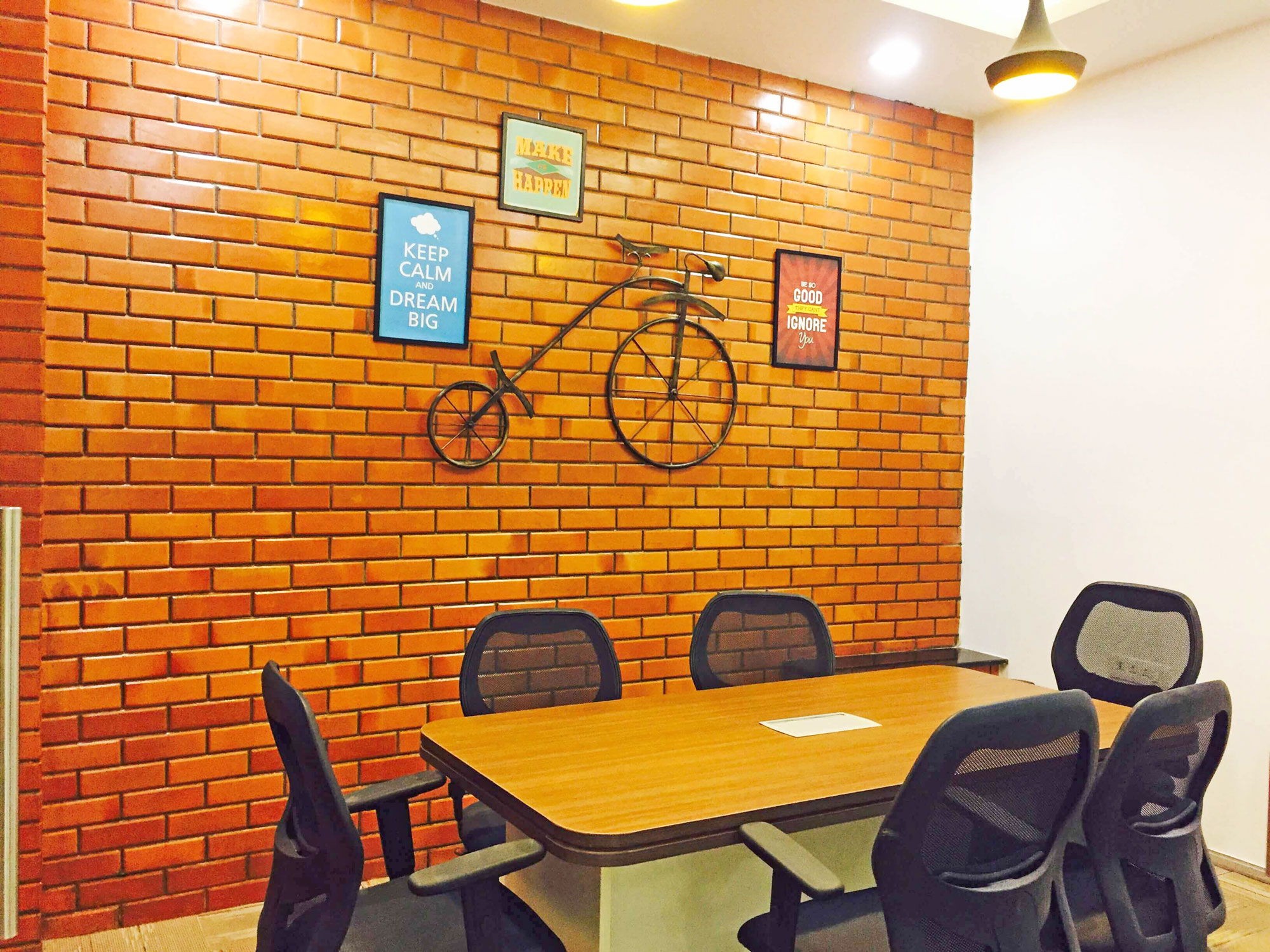 GoodWorks Cowork offers exquisite conference rooms in Whitefield, the IT epicenter of Bangalore. Our conference rooms are prepped with state of the art equipment to organize the smooth running business transaction your organization deserves.
Conference rooms are vital sections of an office. This is where serious business happens- where your employees come up with innovative ideas and where your clients give you the final nod for the proposals. Needless to say, such a room should have the best of facilities and convenience so that the meeting is conducted smoothly and turns out fruitful.
We offer conference venues for all types of requirements and occasions, right from an interview with a board of directors meeting to an on call conference center. Each room has been tailor-made for different purposes of your growing business.
We have kept the basic three guidelines generated after our initial research on conference rooms to ensure your conferences happen in an efficient manner.
Good quality furniture
Conference means business and you cannot afford to settle for cheap furniture as it might have an unwanted effect on your dealings if things go wrong.
2. Sufficient lighting
Recess lights are a must for a conference setting. Additionally, some standard fancy lights can be used to lessen the scary formal look.
3. Do not overcrowd
If your conference room is not spacious enough, do not go for heavy furniture even though they are high on utility. People would like an airy atmosphere more than a crowded one with loads of functionality.
Presently, we offer the following:
Interview Room:

A two-seater meeting room rental with a whiteboard and telephone connection. Suitable for conducting personal interviews, conference calls, and confidential discussions. An ideal place to carry out one on one conversations and interview prospective candidates. Bookings are open now and are allowed on an hourly basis.

Meeting Room:

A six seater room available on an hourly basis with a whiteboard, wifi, telephone connection and other amenities to allow for smooth, hassle-free discussions. A perfect room to organize small-scale meetings and brainstorm ideas and discuss other aspects of the company.

Conference Room:

A spacious twelve seater meeting room for rent with a projector, whiteboard, telephone connection for conference calls and wifi. It is suitable for discussions during client visits, investor meetings or to conduct seminars and workshops. The conference room is ideal for organizing video calls with clients and your development team. Bookings are open now on an hourly basis.
Our superior infrastructure and added facilities such as high-speed internet connection, projectors, and telephone connections ensure smooth conferences with your outstation clients. The projectors and white boards will simplify presentations. Our administrative facilities will facilitate a hassle-free meeting environment.
A perfect conference comprises not just of the thoughts and discussions put forward. The environment of the conference affects the thought process as well and at Goodworks Cowork, we have ensured all the administrative aspects of a meeting are in place.
Why GoodWorks CoWork?
Apt Business Location

: GoodWorks CoWork is located in the premier technology hub of Bangalore, Whitefield. It is the epicenter of business for tech giants, software firms, mobile development agencies and other IT service providers.

Corporate Facade:

When it comes to business transactions,  every organization wants to be taken seriously, and our conference rooms ensure exactly that. The building is an established corporate space with the presence of major companies like Capgemini, iGate, Sunovaa Tech and others. The Vicinity has a corporate look and will surely stimulate the minds of your clients towards a progressive approach.
Our conference rooms are well equipped and modeled to give you the perfect environment for discussions and business meetings. With our coworking space in Whitefield, a prime location, our conference room rentals will ease your symposiums.