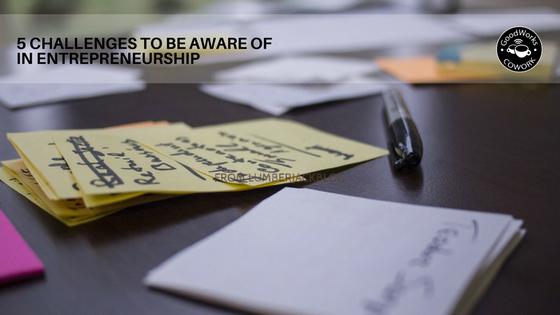 Entrepreneurship is one word for business success, passion and visionary lifestyle and the glamour of having something of your own. However, amidst all that, entrepreneurs have to face challenges in order to keep going towards the goals without losing faith.
Creating a successful business from scratch is not an easy task. Which is why about 90 percent startups fail in the market. So, the new entrepreneurs need to know the potential challenges in order to stay prepared. Here, in this article, you will find 5 challenges that you have to face as an entrepreneur.
1. Say Goodbye to the Luxury of Monthly Salary
If you think that you can manage your business while working in your job, almost impossible. You might generate a plan to work on weekends, but a startup is not just about spending a few hours. The work will increase, which will make you stress from your job and business both.
For the long-term results, you need to invest your whole time to the business only. Otherwise, you will skip many important factors that will restrict your startup from getting a stable position in the market.
2. No Time-off from Work
Entrepreneurship is a lifestyle. Once started, you can't separate your personal life from the business, especially in the initial phases. You always have to manage your time doing one thing or the other for your business. Meetings, calls, marketing, accounting, almost everything come in front of your eyes on a daily basis. And you have to pay attention to all that. So, the time starts seeming a lot faster than usual.
3. Difficulty in Arranging and Managing Finance
Finding contacts for investments is difficult, as the market is filled with businesses. Convincing an investor becomes a hectic and time taking task for entrepreneurs. And even after gaining the initial funding, attaining the consistency in the finance management becomes a hurdle. The revenue cycle, the limited funding from the investors and unavailability of more investors are a few challenges that you have to face under finance management.
4. Finding Talented Employees
This is probably the most difficult challenge that an entrepreneur faces. Though the market is filled with talented candidates, finding and keeping them requires high investment. The lack of future stability and limited salaries keep the talented candidates away from your business. And that puts the burden of the business on your shoulders.
But it is impossible for one person to be talented in marketing management, sales, promotion and all other aspects of a business. As a result, entrepreneurs tend to fail in their journey.
5. Uncertain Future
When working as an entrepreneur, people feel the fear of an uncertain future. The lack of experience can limit your ability to make strategies and anticipate the future of the business. As a result, you end up with an uncertain future in your business.
Entrepreneurship is a lonely journey and full of challenges. But all these hurdles never become too problematic if you have the passion, dedication and a clear vision.