When you are working in a shared space, a friendly environment brings positivity. That is possible if you follow the expected norms.
Here are all those 10 norms that you should follow for a convenient coworking space.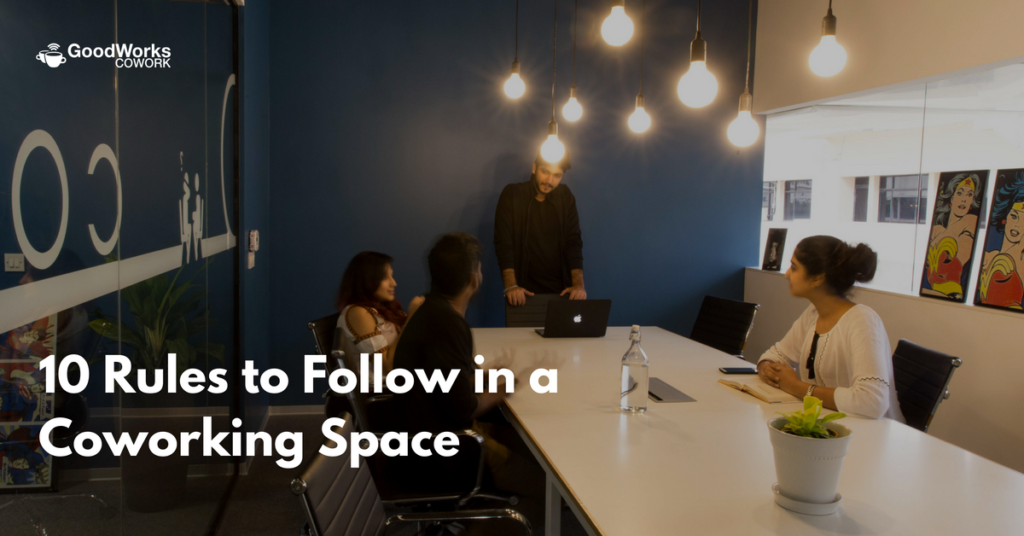 Maintain an organized and clean space
A shared office area allows you to easily organize your stuff when working. But it is expected of you to organize the area before you leave. Keeping your space clean and organized helps in the overall management of the space.
Offer quietness to the place
Everyone comes to work in a peaceful environment. Hence, a coworking space requires a little extra attention in terms of quietness. You have to be careful about the ringtones of your phone and your own voice. Talk in a pleasant way without disturbing others.
Come prepared with supplies
Just like a classroom, you make friends in your coworking space. But you should respect the professionalism of the work. Asking for supplies to others is not considered professional, especially, if you do it regularly. So, bring your supplies in advance.
Think about smell sensitivities of others
A strong perfume, air freshener or lotion can disturb others. Some people can have problems with harsh scents. Hence, it would be wise to avoid strong perfumes. You should control the use of air fresheners also. Keep it pleasant for others.
Be courteous
Your friendly nature does half of the job in a coworking space. A humbling voice tone, ability to listen and greeting others are a few habits that you should follow. Apart from that, you can motivate and help other coworkers and open doors for others as well.
Become self-sufficient
No doubt collaboration is a great advantage of working in a shared space. However, you should aspire to become self-sufficient. This sets a strong example for other people, so they approach you for collaborations. Plus, you feel more efficient.
Network and advertise in a subtle way
A coworking space brings you straight into the middle of your market peers. You can network and advertise your work and business efficiently. But don't overdo it. Make connections in a subtle way that doesn't disturb the work of others.
Think about others when using common facilities
Common facilities can include printers, coffee machine, scanners and others. These common facilities are available to everyone. Hence, you should always refill after using them. Don't leave the printer's tray empty.
Keep the shared eating areas clean
Many times, you share eating areas in a shared office. Hence, you should keep the place clean by using the trash to throw waste items. Don't leave your dishes on the table after eating. Also, try to think about others comfort when selecting your food.
Don't try to hijack the whole office
When your coworkers find you everywhere in the office, it doesn't set a great example. You are provided with a certain space. Hence, it is better to keep your working within that authorized area. This will ensure that others get to have their space conveniently.
Hopefully, now you feel ready for a coworking space!