The productivity, efficiency, and general satisfaction of your staff can all be considerably increased by updating your office with affordable technology. This blog will examine ten low-cost technology solutions that can completely transform your workspace.
1) Cloud based office suite
* Adopting a cloud-based office suite is one of the most important steps in changing your workplace.
* A variety of robust productivity tools, including word processing, spreadsheets and presentation softwares, are available on platforms like Google Workspace and Microsoft 365 and can be used from any device with an internet connection.
* Employees may communicate in real-time by saving data in the cloud, ensuring smooth teamwork and version control.
2) Project management software
* Task management and project coordination are revolutionized by project management softwares like Trello, Asana, or ClickUp.
*Users can create tasks, assign responsibilities to team members, establish deadlines, and monitor progress using these features.
*These systems' visual depictions of project workflow gives a clear perspective of ongoing projects, ensuring that everyone remains organized and committed to their goals.
*Managers may keep track of a project's progress, spot bottlenecks and allocate resources wisely. This organized method increases output while lowering the possibility of missing deadlines or misunderstandings.
3) Effective communication
*Every effective office is built on strong communication. Instant messaging, group chats, and file sharing capabilities are offered by communication tools like Slack and Microsoft Teams, which promotes effective internal collaboration. 
*Team members may work in real-time and swiftly exchange ideas and updates, which cuts down on the delays and misunderstandings that frequently occur with traditional email interactions.
*Since these apps smoothly interact with other productivity tools, workers can consolidate their workflows and access pertinent data without navigating between other applications
4) Video conferencing tools
* With the growth of remote work and international business relations, video conferencing platforms like Zoom and Google Meet have become indispensable.
*With the use of these platforms, team members, customers, and partners may communicate virtually in high-quality video and audio, despite their various locations.
*Face-to-face interactions made possible by video conferencing software during virtual meetings helps distant workers better understand one another and build a feeling of community.
*Regardless of their geographical locations, teams may effectively work in real-time, exchange ideas, and make choices. Additionally, video conferencing eliminates the need for expensive business travel, enhancing productivity while saving time and resources
5) Wireless presentation tools
*The way presentations are handled in modern offices has been revolutionized by wireless presentation tools like ClickShare and Airtame.
*The days of navigating tangled wires and technological hiccups are long gone. With these tools, staff members can remotely share their screens with ease during conferences and meetings.
*This efficient method promotes more interesting and interactive discussions while also saving time.
*Presenters are free to move around the room and engage with the audience while smoothly exchanging content.
*The viewer's attention and comprehension are eventually improved by using wireless presenting tools, which also increase presentation efficiency and foster a more dynamic and engaging environment.
6) HR and talent management
*You can build a future-ready workplace, improve productivity, develop your team and seize the future right away through HR and people management powered by AI. Let us look at a few AI driven solutions that can help revolutionize HR and talent management.
*A game-changer, TestRocket delivers pre-employment screening powered by AI, expediting candidate assessment. You can gain insights via coding challenges, AI-backed applicant rankings and evaluate more than 50 skills.
*The all-inclusive ATS platform RocketATS changes the recruitment process by managing everything from sourcing to onboarding.
*You can quickly connect with top remote developers with 50+ expertise using GoodWorks Alpha. 
*With AI-based upskilling, individualized career routes, and industry benchmarking, Netskill revolutionizes talent growth
7) Smart Lighting systems
*A modern and effective technique to illuminate the office is using smart lighting systems.
*Employees have the freedom to adjust brightness and color temperature based on their preferences and tasks thanks to IoT-enabled lighting systems like Philips Hue or LIFX, which can be remotely controlled via mobile apps or voice commands.
*These systems may alter brightness automatically in response to changes in natural light levels to keep a consistent and cozy workspace all day long.
*Smart lighting improves the atmosphere overall while consuming less energy, saving money and creating a more environmentally friendly working environment.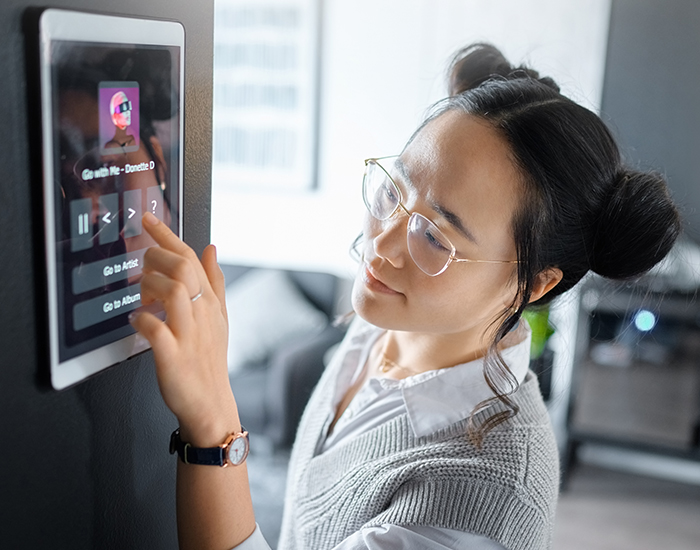 8) Remote desktop softwares
*The necessity for easy remote access to corporate computers and files is met by remote desktop softwares like TeamViewer and AnyDesk.
*This technology is essential for maintaining workflow continuity as more workers work remotely.
*Employees can access their workplace computers remotely in a secure manner just as if they were sitting at their workstations.
*They may now operate effectively, access important files and use office-specific applications from any location with an internet connection.
*Software for remote desktops encourages productivity and flexibility, allowing workers to manage work and personal obligations without sacrificing effectiveness.
9) Document Management Systems
*Platforms like Dropbox, Google Drive, or OneDrive, which serve as examples of document management systems, have revolutionized how businesses manage documents and collaborate on projects.
*The centralized storage provided by these cloud-based systems makes it simple for staff members to arrange, save, and retrieve documents from any device.
*Multiple versions can generate confusion and problems, but version control tools make sure that everyone is working with the most recent version of the file.
*Teamwork is streamlined by collaborative editing and sharing features because different team members can work simultaneously on the same project. This encourages the sharing of knowledge and accelerates the decision-making process.
As the files are safely kept on distant servers with regular backups, cloud-based storage provides protection against data loss or damage.
10) Task automation tools
*IFTTT and Zapier are two task automation applications that can be used effectively to streamline repetitive operations and increase productivity.
* These automation platforms connect many programs and services to enable the automatic triggering of activities in response to certain circumstances.
*You may program rules to automatically enter data, post to social media, organize emails, and more.
*Employees can now concentrate on more important duties and strategic activities because regular operations can be automated, saving time and removing the need for manual involvement.
*Automation solutions are essential assets in modernizing and streamlining office processes due to their seamless integration, which streamlines workflows and increases overall efficiency.
In conclusion, modernizing your office doesn't have to be expensive. Your team may work in a setting that is more effective, efficient, and fun if you thoughtfully integrate these ten low-cost technological solutions. The digital transformation of your company can be sped up by embracing cloud-based productivity tools, project management software, communication apps, video conferencing platforms, and other reasonably priced technologies.
To learn more about Coworking Spaces for your Office please do visit our website.