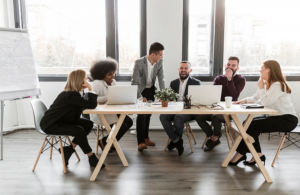 The last year was full of challenges and brought about a paradigm shift in our daily lives, our working methods and even our workspaces. While 2021 began with a ray of hope as vaccines began rolling out, but businesses are still planning out strategies to adapt to this new way of working! The pandemic has forced companies to rethink their office space requirement. The CBRE Asia Pacific Research has rolled out a report that outlines – "how office strategy will evolve in the coming years, from labour to location, and from occupancy to design, and explains how these and other elements are increasingly interconnected." 
The report is based on the survey "The Future of the Office" CBRE conducted, in early October 2020, by interviewing senior representatives of around  100 MNC and large domestic companies in the Asia Pacific. 
Read on to know a summarised version of what the report conveys and how this finding can serve as a basis of your future business decisions.
The Trail to Return to the Office
The primary botheration for companies is whether to continue work from home or resume office as before. The virus spread is under control now that is making workers resume offices in most of the Asia Pacific countries. But what is more important is that companies adopt a flexible approach to working methods so that any sudden calamity will not affect the flow of work. CBRE's survey found that a major percentage of senior management i.e 72% is encouraging employees to work from the office, whereas a very low rate of just 11% is agreeing to work while staying at home. The graph below shows the office utilisation rates in Asia pacific – 



Source: CBRE
Although the workers are returning to the office, this shift to remote working will continue to stay and become a part of many corporates in the Asia Pacific markets. CBRE's survey has found out that before the pandemic, most companies restricted remote working to no more than 10% of their workforce, but this fugue has risen after the pandemic and is set to rise as high as 50% in the coming years. 
The graph below shows the survey results that although remote working is deployed by companies, they do not expect it to continue for always. About 66% of survey respondents intend to allow remote working for max one or two days per week. With an average of it is just 7% of the total workforce allowed to work remotely full-time, hence a need for a physical office is inevitable. Even 37% of employees prefer to work from the office all the time. The reason can vary from small residential space,  lack of adequate power supply or the internet. Hence, companies looking forward to introducing work from policy needs to take care of employee needs and well-being.
  


Source: CBRE
Realigning Work Spaces 
With the sudden adoption of remote working, companies have to rethink their workplace strategies for the long term. The graph below by CBRE's survey shows that there are mixed reviews in terms of working from office or home. While the senior management believes working from office has several benefits, a considerable percentage of employees also share similar views. To match both, employers have to evolve the workspaces to enhance flexibility. 

Source: CBRE
CBRE's report suggests that in lieu of redesigning the workspace, companies need to have both long term and short term measures. It will include incorporating flexibility and distancing and adding settings that will suit different styles of working. For example, designing the workspace as per team-based or activity-based working model. 
Re-Think Office Real Estate Strategy
CBRE's report concludes that organisations have to invest in the right technology and create a real estate portfolio strategy that will enable employees to work with the same productivity level whether they are in the office or home. As per CBRE, the three areas of focus will be – Portfolio agility, locational diversity and space efficiency. Investing in the right technology will create a 'phygital' working space and improve employee engagement. CBRE also suggest including locational diversity in workspaces and introducing hub-and-spoke models. 
Wrapping Up
The CBRE report has laid down several views that will re-shape the whole workplace scenario. Well, remote working was already around the corner, it is just that the pandemic led its adoption within a few days. Companies have designed their strategies as per their business goals. For example, rather than huge office spaces, shared office space has taken a major place. But now as we are almost coming out of the vulnerability that the pandemic has caused, its time to revamp the workspace that can survive any mishaps and does not let the economy down! 
GoodWorks – Helping Companies Come Back to Offices in a safe and secure environment. 
GoodWorks is one of the largest players in the coworking and flex/ managed office space. We are facilitating customers of all sizes and industries return to office in a safe and secure way, ensuring our facilities, interiors and processes are seamlessly integrated.