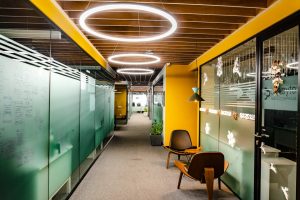 The rise of coworking spaces in the last few years has been impressive. However, with the lethal pandemic threatening lives and government restrictions, these spaces have undoubtedly suffered. Nationwide lockdowns and restrictions of non-essential movement mean the abandonment of these spaces.
Perhaps, the benefit that the coworking spaces rendered has become its major obstacle – short leases. Unlike conventional office spaces, which offer long-term leases for 10-15 years, coworking spaces provide a relatively short tenure.
Can coworking sustain the aftermath of the pandemic?
The wide array of benefits that come with coworking spaces makes it possible to sustain after the pandemic subsides.
The non-conventional working culture enhances efficiency and boosts productivity. Employees feel more energized, and as such, produce high-quality work.
With ample chances of connecting with other professionals, coworking spaces offer a splendid opportunity to build connections and strengthen your network.
Apart from networking, employees also get the opportunity to form real bonds with other people. Building such relationships ultimately makes professional life even more interesting.
The diverse work culture of coworking spaces ensures that you can work with different individuals. That means you can learn from other people and enhance your skill.
The loneliness of working at home can decrease productivity. As such, coworking spaces counters loneliness with lively conversations with like-minded people.
Flexibility is another primary reason why coworking space is so popular. You can change your space as per the business needs with ease.
The financial impact of the covid on coworking spaces
With the lethal coronavirus affecting billions across the globe, governments have instructed people to stay at home. Apart from the inconveniences, the financial impact on the industry will be huge.
Most tenants are switching from full membership to hold ones. This will definitely have an effect on the finances. However, the benefits that coworking spaces provide will balance out the financial impact in the upcoming years.
New aspects of coworking spaces
In order to deal with the after-effects of the covid-19, coworking spaces have adopted a new norm. They have focused on strengthening their communities through different events. This has led to an increase in digital events.
Zoom rooms have become a popular way to drive the importance of social gatherings. Though people are working from home, they can still maintain their connections. Moreover, workshops and other virtual classes have also become prevalent.
Amidst such crisis, the role of community has never been greater. Coworking spaces are working tirelessly to ensure that people connect even if they are at home. Keeping up the morale is extremely vital during these trying times.
Wrapping it up
In essence, after the pandemic is over, the future of the coworking spaces is bright. But, the industry will have to opt for a new structure in order to thrive once again. With permanent changes in human behaviour and the growing modifications in work models, coworking spaces might need to shift their focus.
While previously, these spaces catered more to single entrepreneurs or freelancers, now it has to put effort towards acquiring big companies. Nevertheless, the different beneficial aspects will aid the growth of coworking spaces even more.
With a wide array of beneficial features, the coworking spaces can rise again. If you are looking out for a safe, robust, and diverse coworking space to work in, you can get in touch with one of the best coworking spaces in Bangalore, GoodWorks Cowork. We have amazing private office spaces, hot desks, dedicated desks, and even meeting rooms. For shared office space, contact here!