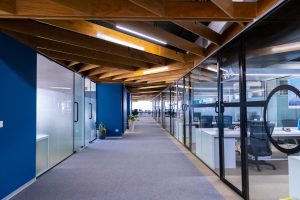 The workplace model has changed tremendously in the last few years. With the onset of the lethal pandemic, most business organizations have been forced to adapt to the work-from-home policy. Suffice it to say, the traditional office concept is bound to change in the post-pandemic era. With the ever-changing landscape of the corporate world, shared office spaces have gained massive popularity. 
What are shared office spaces?
Shared office spaces, also known as coworking spaces, refer to the usage of a common space by more than one business. Here, multiple companies can work together with the aim to improve productivity. Moreover, it is also available to solopreneurs, freelancers, and other remote employees. 
Is opting for a shared office space a good idea?
Known as an excellent cost-saving solution, shared office spaces are often heralded as a boon by professionals. Check out the various advantages that you can gain from renting one. It will also help you understand if you can benefit from one. 
Shared office spaces offer the opportunity to develop your professional network. By attending the various events and meetups, you can interact with people from other fields. That way, you can build professional connections. Moreover, you can also develop some personal bonds. You can gain a mentor, friend, or even a partner.
The flexible timing of the shared spaces makes them even more popular among professionals. Most of these are open round the clock. It means that you can work whenever you want, depending on your work deadlines. For instance, have a project to submit by early morning? Don't worry! You can stay up all night and then go back home in the morning.
One of the biggest advantages of using a shared space is convenience. You can rent the space you need. If you have a budding startup, you can rent as per the number of employees. Once you expand and hire more people, you can rent more space. It means that you have to pay only for the area that you need. 
Working with people from different professional backgrounds is actually a blessing. For instance, you can ask help from a web designer when you have zero experience in it. Apart from improving productivity, it will also help you to learn something new. Moreover, it will aid in enhancing your existing skillset.
Availability of resources
Shared spaces come equipped with a wide range of resources. These include desks, chairs, furnishing, a well-stocked kitchen, technological equipment pieces, and more. Now, you don't have to worry about the expenses needed to make these purchases. 
Working from home can lead to feelings of loneliness and isolation. That can, in turn, hamper work productivity tremendously. In this case, coworking spaces are a huge help. Interacting with other people helps in reducing anxiety and improves productivity significantly.
Conclusion
The transition from traditional office spaces to work from concept, though sudden, has been building for a long time. However, to attain maximum productivity, the best solution is to opt for a middle route – shared office space. It breaks from the rigid rules of conventional office space while dealing with the monotony of working alone from home. But, to thrive and gain success, one needs to opt for the best coworking space. Check out GoodWorks CoWork, the amazing coworking space in Bangalore. For more information about the space, contact here.