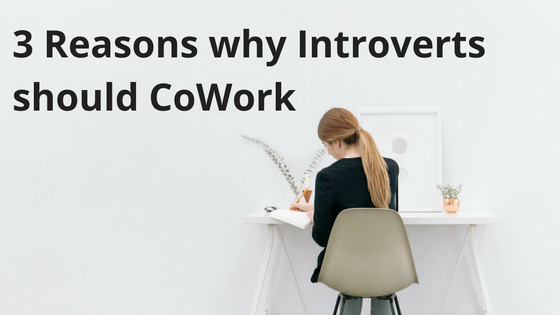 Being an introvert can be way too stressful for some people, especially in a work place where you are bound to have countless interactions with people. Walking into a shared office space and having people stare at you can get overwhelming.
But here are 3 reasons why Introverts should CoWork
1)Access to a huge community
One of the biggest advantages of working in a shared office space is that you get to meet people from different backgrounds. Unlike traditional office spaces, your interactions need not be restricted to just work related subjects.
At a co-working space you can observe how others think, what are the different technologies that work for them, get insights on the marketing strategy etc. Even if you prefer to be away from the lime light you can always take advantage of the discussions that happen around you. You never know, sometimes the answers to your biggest problems could be lurking around you 🙂
2)People Management Skills
Most of the times, introverts are mistaken to be lone workers. Well, lets face it – if you have plans of building a multi-million dollar business, you definitely can't do everything on your own. You need the right kind of people who can help you work towards your goal.
At Co-working offices, you can get comfortable with the idea of working along with different people. Each person has a different energy and a different skill, that is what you need to capitalize on. People management is a very important skill for an Entrepreneur and if you are an introvert, then this is probably the first challenge that you need to overcome.
3)Better Communication Skills
Yes, we know you are an introvert who shies away from conversations, but how are you going to reach out to potential investors if you are going to stay in your cocoon?
Co-working spaces normally organize events that help to drive communications between people. These events are opportunities for you to network with like-minded people and also to draw insights on the current trends in the business world.
Don't let the introvert side of yours come in your way of being an Entrepreneur. The more you talk about your business to people, the more likely you are to be heard.