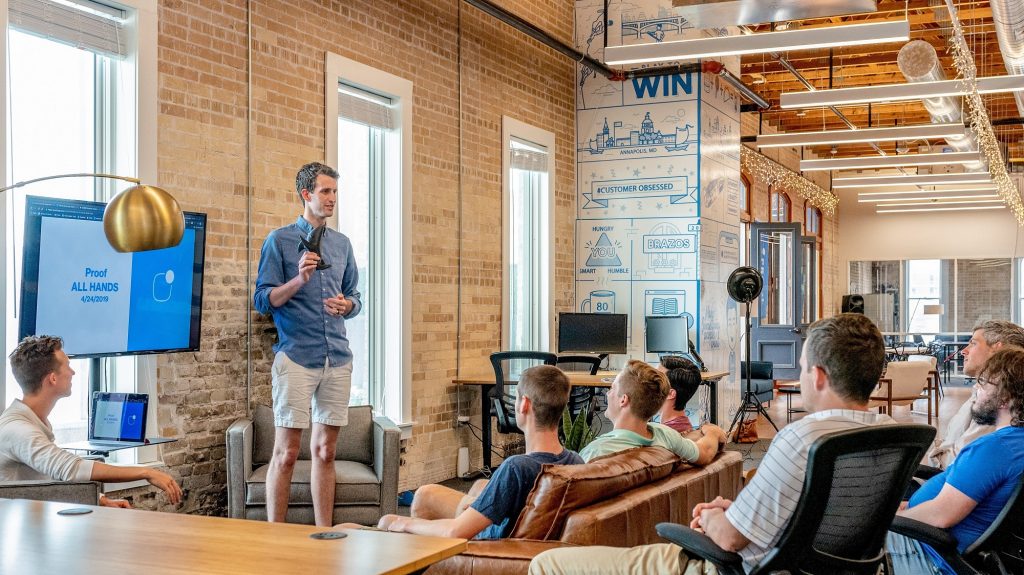 If you think that hosting an event has a lot of impact on the attendees, you are partly correct. Moreover, if the venue for your event is a coworking space, several factors come into play to make your event successful.
From things taking care of the ambiance like music, and keeping the menu as per the choice of people attending the event, there are a lot of things to monitor before people come into your event.
Coworking spaces cover all such requirements for you in advance. The trend is now picking up, with more people switching from their traditional offices to work in a more interactive and relaxed environment.
This preference is a huge positive for the whole coworking industry as a whole.
We have a few of the reasons why you should host your next event in a coworking space:-
1. Infrastructure and Amenities
A coworking space has a good number of facilities and equipment in the store since the first day. Chairs, tables, event space, coffee, tea, speakers, projectors and a whole lot of amenities are there for you.
This makes the task of conducting your event here much less tedious. Also, the presence of essential amenities makes coworking spaces an excellent venue for your next event.
2. The Staff Requirements are Already Sorted
Any event requires people with the skills to ensure that everything is done smoothly for the duration of the event.
These people can support you with the overall setup, guide the attendees through the conference hall or space, provide directions to restrooms and also be a part of security for the event.
The staff, therefore, is integral to the success of any event.
Coworking spaces have excellent staff available, making you free from the hassle of arranging for the team.
3. Coworking Space is Comfortable
The objective behind coworking spaces is to have a place where people come and work for long hours without fatigue. Due to this, coworking spaces are very comfortable.
Coworking spaces are similarly comfortable for the audience as well. The host can turn the event into a success story itself. Moreover, the areas are warm and welcoming, making it all perfect for a great event.
You cannot go wrong with your event in a coworking space.
4. You are An Important Local Resource Yourself
Compared to coffee shops for hosting events, a coworking space is a hub for creative people, startups, technical professionals and entrepreneurs. If you can utilize the space for your introduction, the visitors can surely become conversions for you.
Coworking spaces help you in getting connected with a crowd of like-minded people, even if you are attending an event hosted by someone else.
5. Coworking Spaces are Safe and Secure
The safety and security of people who are working at any place are of utmost importance. This is more important when you are the host of an event.
Most of the coworking spaces have firefighting equipment and emergency exits, and many other safety measures in line with the latest security technology and trends.
6. Great Parking Arrangements
While the quality of content delivered at the event is a focal point, parking is that silent yet essential factor under consideration, always. Thankfully, coworking spaces have ample parking areas suitable for both large and small events.
The availability of parking is a big help as it facilitates an increased turnout of the audience for the event.
7. Freedom From Promotional Hassles
Without people knowing about your event, you cannot expect to host a successful event. It is essential that you promote your event to the most significant possible degree.
If you are organizing your event privately, you will have to spend quite a lot of promotions through print and visual media, which takes a lot of time. Hosting your event at a coworking space helps you get the right level of advertising by their hoardings, brochures, newsletters, and emails to their forwarding lists.
Final Thoughts
Apart from the community you get in the coworking space members, hosting an event in such a space lets you as a host contributes to an extended local community.
You will have people from a lot of different fields and sectors looking into the coworking space for information, exciting events and a lot of inspiration too. Also, you don't have to worry about the arrangements and requirements for the event.
All you need to do is relax and focus on the deliverables, letting everything else take care of its own.
Planning for an event? Contact Us for your options of hosting it in a coworking space.