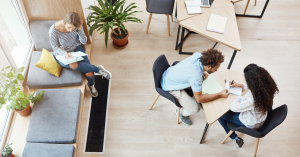 With the dynamic evolution of the workforce, the workplace setting seems to have undergone massive changes too. With the onset of the pandemic, working from home has become the new norm. This has led to the rise in the popularity of coworking spaces. It is a rapidly growing sector, garnering favour from different types of people. Hence, the wide range of benefits that one can gain from coworking spaces is undeniable.
Who uses coworking spaces?
Freelancers, startups, employees, etc. everyone can use the coworking space. It offers a wide array of amenities, which aids in work productivity improvement. However, there are some people who frequent the coworking places. Take a look –
One of the biggest portions of the workforce is composed of remote workers. These employees need to go to the office for 1-2 days a week. As such, they may have trouble adjusting. Here, coworking space comes to the rescue. These offer a professional setting without too much rigidness of schedule or time.
Coworking spaces are a boon for freelancers. Here, one can maintain the flexibility of the working hours without the need to follow any strict schedule. Moreover, the community prevents feelings of loneliness and isolation from creeping up. This has a direct impact on the work quality.
Startups enjoy the low-cost factor of coworking spaces. Here, you don't have to invest in additional items such as furniture, manager, etc. You can get a perfectly functioning place at a minimum price rate. Moreover, the lease period is small, and you can reduce overhead costs significantly with coworking spaces.
Nowadays, even large business organizations prefer coworking spaces. That is because they understand the importance of flexibility and freedom and how it impacts work. Moreover, it is also an excellent way to avoid long leases, which increases overhead costs. Plus, the wide range of amenities available cannot be denied.
Often, students find it boring it study from their home. However, universities or colleges become too hectic. On the other hand, coworking space offers the best of both worlds. You get to have the peace you need along with access to different amenities.
Employees that travel a lot for business purposes need to have a place to conduct their meetings. In that case, coworking spaces turn out to be an excellent idea. Apart from the different amenities available, they can get a professional working environment. Moreover, it also projects an impressive business image.
Consultants generally do not need a traditional workplace to conduct their work. However, sometimes, they do need a professional place. Here, coworking space meets the needs perfectly. They offer flexibility but come with different facilities. That makes it the perfect place to hold meetings, work on presentations, and much more.
Small or rising businesses find the cost of renting traditional offices too high. In that case, coworking space is a budget-friendly alternative. Here, the company can gather all their employees without spending a fortune. Moreover, coworking spaces offer multiple benefits such as furniture, snacks, manager, etc.
Conclusion
These are generally the types of people that use the coworking space. That doesn't mean that the place is only limited to them. Anyone can use the coworking space to do their work. However, what you need to do is find the best coworking space that suits your needs the most. Check out GoodWorks coworking space in Bangalore, it is completely designed keeping in mind that people get utmost comfort while working and the space adds up the productivity. So what are you thinking? Book our coworking spaces today!