Vishal Sikka, in a letter to the board members, said "..false, baseless, malicious and increasingly personal attacks" have been made over the last many quarters and these allegations have been repeatedly proven false by multiple independent investigations. "But despite this, the attacks continue, and worse still, amplified by the very people from whom we all expected the most steadfast support in this great transformation. "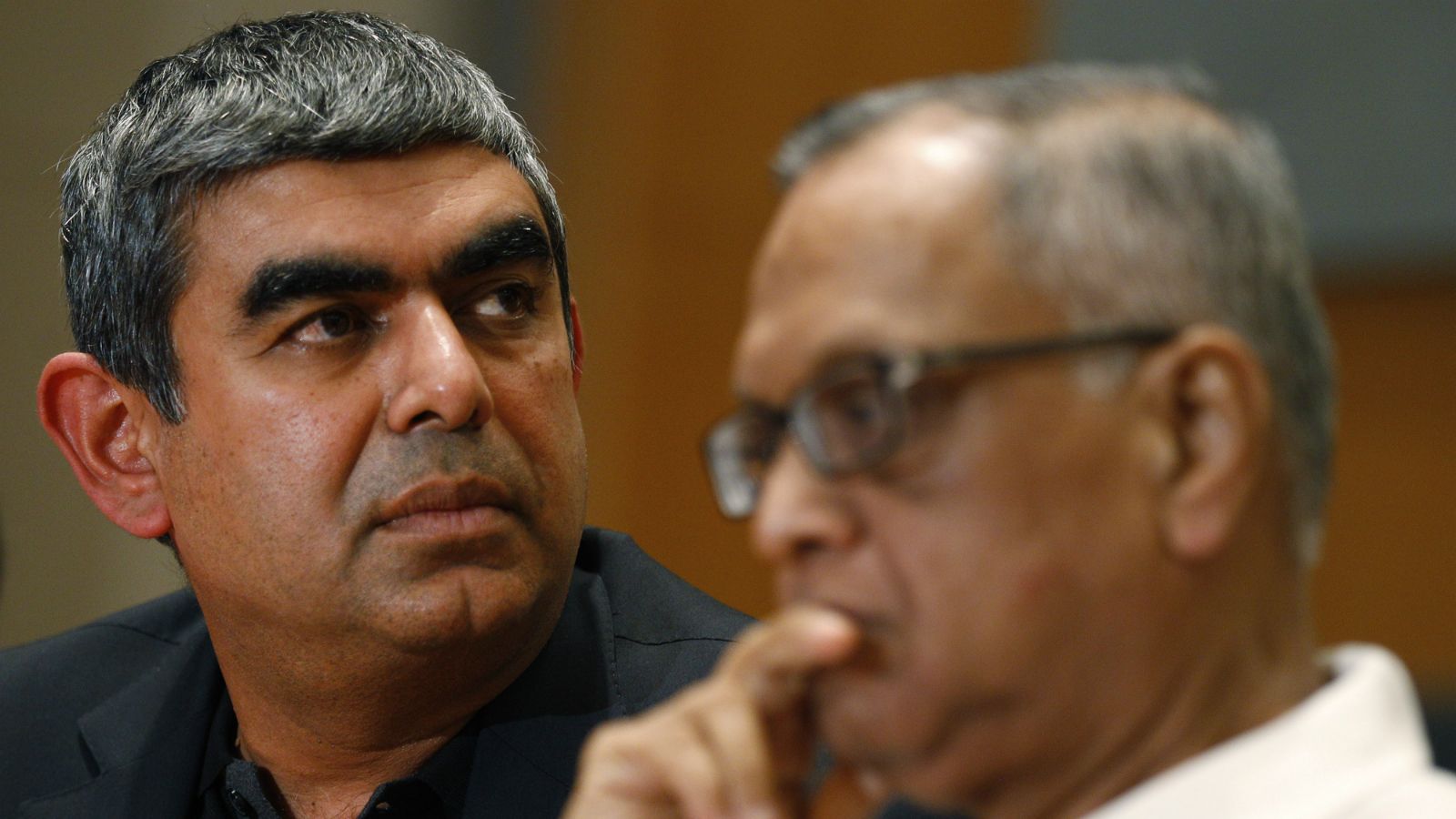 Most people seem to ignore that Narayana Murthy wears 2 hats. The prominent one that's top of the mind is as the founder, while the subtle one is that of an activist shareholder with 3.5% shareholding (his family) and part of the promoters shareholding at 12%. It should also be known that it was Narayana Murthy and K.V. Kamath (ex Infosys board member) who had hired Vishal Sikka with great confidence when the company was floundering during his second innings.
Vishal Sikka took charge perhaps ignoring the import of Murthy's oft-repeated line "Infosys is my middle child". He perhaps didn't expect that Murthy will literally mean it and attempt to do backseat driving overseeing executive actions. He is entitled to monitor Board performance given his shareholding and his cult status. However, he seemed unhappy with VS strategic direction with acquisitions and his getting few executives from his ex-employer.
Somewhere he thought that Vishal Sikka was changing some of Infosys core values when Vishal Sikka raised employee salaries, increased the COO salary along with his own salary by 55%, and made the dress code informal. He did a lot to engage employees differently. Perhaps there must have been considerable heartburn in Murthy and the issues of Ravi Bansal's severance package, missing the revenue target by $ 5 billion all came in handy to train his guns on Vishal Sikka.
The shares also fell by as much as 8% soon after the CEO resigned. We all are Curious and disappointed at the same time. We want to look at the situation from both Vishal Sikka and Narayana Murthy's perspective. It'd be best not to judge either of them as both have contributed significantly during their tenures.
Imagine how it'd be, to work at a position, where you'd be required to bother less about the operations and strategies of the company and more about the questions being raised by the promoters/founders. Promoters must act in the interest of the organization and exercise their right to question the acts of the board, but when should they turn into activists has not been specified under any law. To what extent should the interference (even if by the founders) be allowed, especially when it's deteriorating not only the image of the board but also that of the company.
Having said that, I'd like to point out that the questions raised by Narayana Murthy are not only thought-provoking but also remain unanswered by the intended folk at Infosys. The ones that compelled me to speculate were:
Was Panaya acquisition overvalued?
These questions definitely point out that something was up with Infosys, but no outsider can say with certainty as to what really happened. But, to the best of our knowledge, these statements by Narayana Murthy look like mere questions, not speculations. He didn't conceptualize a theory. He demanded an explanation.
He was the founder of Infosys, he saw it rise even at the times of break-through changes in the business environment. He is being criticized for intruding in a company that he founded and raised. What he's doing is asking questions, which can be answered easily by the board, if there's nothing to hide.
Some experts claim that Indian Business Houses are not yet mature enough. We still have not understood the separation of business entity from its owner or the family name. I agree, Narayana Murthy doesn't want to let go of Infosys or perhaps doesn't want it to forget the values of integrity and equity, no matter how far it goes. Even though not turning out to be so, I find his actions intended in the best interest of Infosys, his third child.