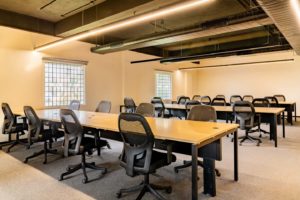 Coworking spaces are an increasingly popular option for freelancers, small business owners, and remote workers. With their flexible membership options, collaborative environment, and range of amenities, coworking spaces offer many benefits to those who work in them. However, to get the most out of your coworking space membership, there are a few things you should keep in mind. Here are some tips for making the most of your coworking space membership:
Define your goals: Before you start working in a coworking space, it's important to define your goals. What do you hope to achieve by working in a coworking space? Are you looking to network with other professionals, collaborate on projects, or simply have a quiet place to work? By defining your goals, you can choose a coworking space that meets your needs and make the most of your membership.
Take advantage of amenities: Coworking spaces offer a wide range of amenities, such as high-speed internet, meeting rooms, and printing services. Make sure you take advantage of these amenities to make your workday more productive and efficient. For example, you can book a meeting room for client meetings or presentations or use printing services to print out marketing materials.
Attend events and workshops: Many coworking spaces host events and workshops that are designed to help members network, learn new skills, and grow their businesses. Make sure you attend these events to meet other professionals, learn new skills, and stay up-to-date on industry trends. This can be an excellent way to expand your professional network and grow your business.
Connect with other members: Coworking spaces are designed to foster collaboration and community. Take advantage of this by connecting with other members and building relationships. This can help you find new business opportunities, get feedback on your ideas, and learn from others' experiences. Make sure you attend networking events, introduce yourself to other members, and participate in group activities.
Customize your workspace: Most coworking spaces offer flexible workspace options, such as hot-desking or private offices. Make sure you choose a workspace that meets your needs and preferences. For example, if you need a quiet space to focus, you might prefer a private office. On the other hand, if you thrive on collaboration, you might prefer a shared workspace.
Be respectful of others: Coworking spaces are shared workspaces, which means you'll be working alongside other people. It's important to be respectful of others by keeping noise levels down, cleaning up after yourself, and following any rules or guidelines set by the coworking space.
In conclusion, a coworking space membership can be a great way to enhance your work life, providing a comfortable, productive, and collaborative environment to work in. By following the tips listed above, you can make the most of your coworking space membership and maximize your productivity, networking opportunities, and personal development.
Remember to set clear goals, utilize the available amenities, network, participate in events, be respectful, collaborate, take breaks, provide feedback, and be social. By doing so, you can enjoy the benefits of coworking spaces and make the most of your membership. Coworking spaces offer many benefits, but it's up to you to take advantage of them and create a productive environment for yourself. If you are residing in Bangalore, checkout – GoodWorks Coworking space!