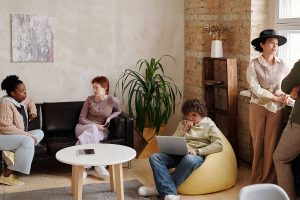 With back-to-back curfews and lockdowns, the IT industry has undergone a massive blow in the past two years during the pandemic. And in such a challenging situation, the only thing that has kept the IT sectors and new start-ups afloat is the coworking culture.
Introduced in San Francisco, the adoption of coworking office space has slowly spread worldwide. It assisted both employees and their employers in India to survive during such a crisis. And now, when everything is almost back to normal, the IT industry is not at all ready to bid farewell to this coworking culture. Instead, it is being widely accepted by different sectors. Gradually, its demand and growth are increasing. In fact, the real estate industry is also ready to collaborate with the IT sectors and create more such places to enhance work productivity.
Let's find out how coworking spaces have become a top priority in the IT sector.
Flexible workspace
As per the Cushman & Wakefield survey, the coworking contractors have secured their positions immensely. In fact, according to statistics, approximately 21% of commercial establishments have incorporated coworking in  Bangalore in the last year. In 2021, the operators measured the coworking areas to be around 4.91 million square feet. And this rising demand for coworking culture is solely because of the flexibility in the workspace.
With the arrival of brand new working styles and hybrid work models, businesses of every size are showing keen interest in evolving their traditional office premises. The constant networking and collaboration among the employees and their physical and mental wellbeing contribute to productivity, work efficiency, and business revenue.
Eliminate teething issues
Surprisingly, in an industrial market such as India, the introduction of shared office space went smoothly. In fact, there have been no such records of teething issues till now. When the coworking culture was first launched in the country, the audiences were initially educated about the benefits of coworking spaces.
Most Indians are significantly sensitive when it comes to costs. And since adopting top coworking spaces in Bangalore proves to be highly beneficial and cost-efficient, this new work culture is receiving much support and appreciation.
Tech-enabled work ambiance adapts to constant changes in demands
The COVID-19 situation has, directly and indirectly, changed the entire traditional work ethic. And coworking office spaces are the ones that are responsible. The way the new culture is responding to new demands and catering to them fruitfully, both the coworking operators and the users are considering this particular work culture highly.
Coworking spaces offer a cozier ambiance for the employees to focus on their work in such a crisis. Besides, the operators never forgot to follow the protocols of maintaining a safe distance between the members. The biometric systems, sensor-based doors, etc. are the lead reasons for the immense growth of coworking spaces. It significantly reduces the possibilities of contamination and has thus made workspaces fun and advanced.
Conclusion
Undeniably the pandemic situation has brought diverse losses and setbacks to businesses. But, experts have always come up with a custom fit solution, and one fine example is the incorporation of virtual office space in Bangalore. And in the upcoming years, this specific work culture is not going to stay limited to the large companies and organizations. In fact, businesses of all sizes will welcome it and enjoy its benefits.
GoodWorks Cowork hosts private office spaces in Bangalore where you get access to world-class amenities and facilities. Contact Goodworks CoWorks, the number 1, coworking space in Bangalore that provides, dedicated desks, private office, space, meeting rooms, a business center, and virtual office space. Get all your coworking needs filled in one place. So what are you thinking? Get in touch with our team for more details. You could even get a free trial day. Contact GoodWork Coworks here.