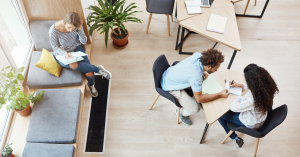 When covid-19 shocked the world, business organizations were compelled to enforce the work from home or remote work concept. Setting up the infrastructure and handling the employees remotely was no doubt challenging, but it did lead to some interesting revelations. For instance, companies found out that productivity wouldn't really be hampered if the employees work remotely, nor will they lose focus. That gave organizations the opportunity to further explore the remote work concept. As of now, numerous companies are seriously thinking of implementing remote work post-covid.
Benefits of remote work
Remote work offers multiple benefits for both employees and employers. Here, we will explain how employees can utilize remote working for a wide range of benefits. Take a look –
Employees invest a significant amount of time in commuting to and fro from the office. Lack of transportation can lead to saving time and money. Moreover, you can get rid of the added stress of reaching work on time.
Improved work-life balance
Most remote jobs come with highly flexible schedules. It means that employees have the power to dictate the working hours, provided the work is submitted within the estimated time frame. The control over the work schedule can make it easy to maintain your personal life. You don't have to sacrifice one for the other.
With remote working, companies have the opportunity to create a diverse team from different geographic, socioeconomic, and cultural areas. These professionals can offer different perspectives, making the work even more productive. Moreover, you can also benefit from working with other talented professionals.
Remote working offers tons of opportunities to save money. For starters, you can save money from transportation, parking fees, car maintenance, gas, professional wardrobe, food, etc. Instead, you can use the saved money for other critical purposes.
One of the most beneficial aspects of remote working is the ability to create your own office space. Moreover, you can personalize the space as per your requirements. The addition of furniture or items you want can make you more enthused with working. It will definitely aid in improving your work performance. For instance, if you want an ergonomic chair, go ahead, no one is there to stop you!
Environmentally beneficial
Remote working or working from home has reduced the emission of greenhouse gases significantly. The elimination of cars from the road and the subsequent reduction of carbon print have made a positive impact on the environment. Moreover, it also has made a tremendous impact on air quality and pollution.
Remote working allows employees to concentrate on their work with ease. With the elimination of interruptions, noise level, and distractions, it becomes easy to focus on work, thereby increasing work productivity. It also leads to the conduction of efficient and time-saving meetings. Moreover, the addition of lack of transportation also leads to saving time and using that time to work instead.
Conclusion
Remote working is not only limited to working from home. You can also opt for a coworking space. It is the perfect balance between working alone at home and the chaotic office environment. Here, you have sufficient control over your work and can interact with people at your will. However, for the best results, choosing the top-rated coworking service provider is crucial.  Check out GoodWorks coworking space in Bangalore, it is completely designed keeping in mind that people get utmost comfort while working and the space adds app the productivity. So what are you thinking? Book our coworking spaces today!