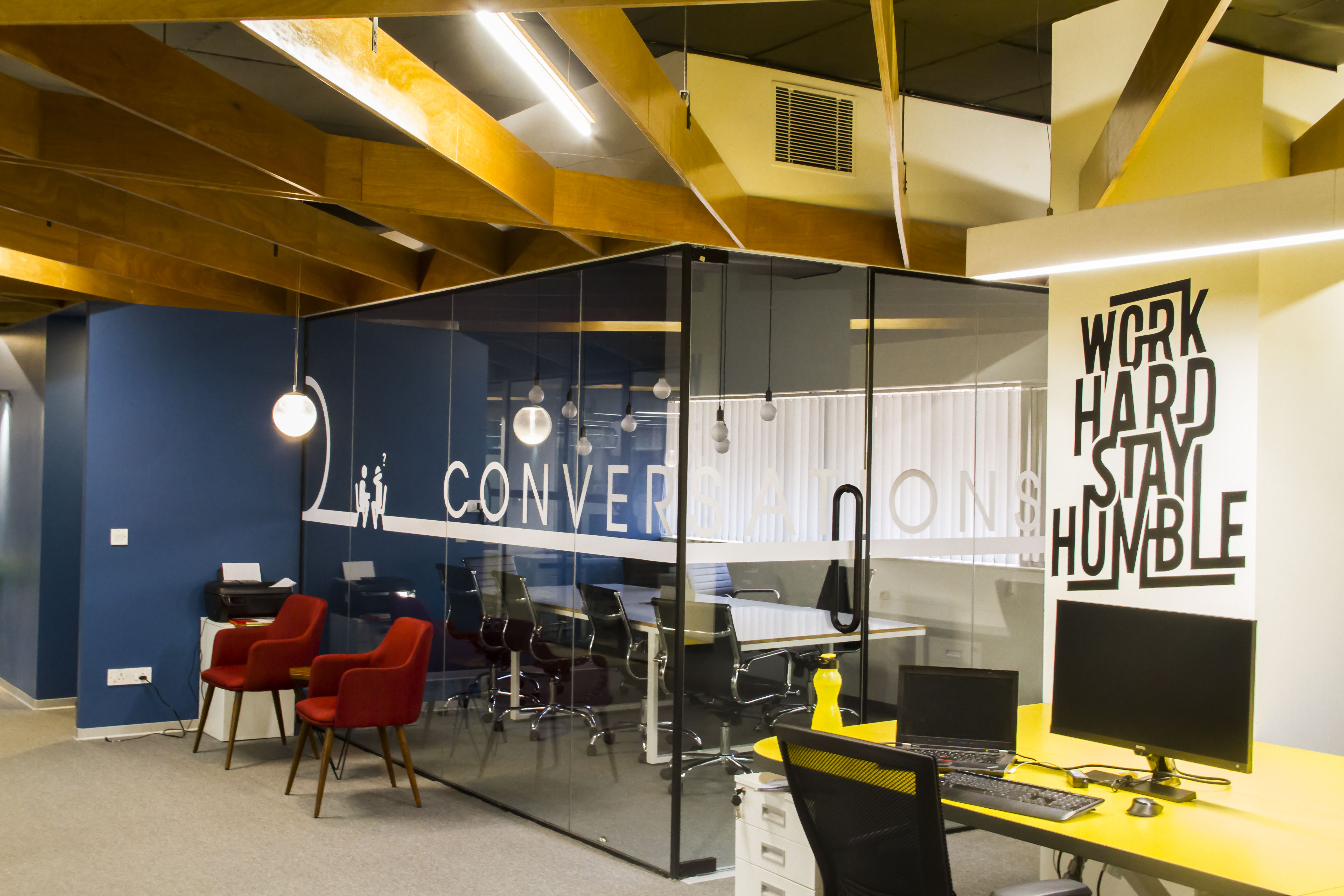 Best Meeting Rooms in Bangalore
GoodWorks Cowork offers meeting rooms and conference rooms in Whitefield, the computer centre in Bangalore, where all major commercial players are stationed. Our meeting rooms rental is equipped with everything you need. state of the art and advanced equipment to conduct that career-defining business transaction without too many hassles. Our in-house infrastructure and facilities such as high-speed internet connection, projectors, and telephone connections will allow for smooth conferences with your outstation clients. Resources Projectors and whiteboards are also available for presentations, meetings, seminars and so on. The environment a meeting room facilitates plays a huge role in the outcomes of crucial business meetings. Our meeting rooms allow the most optimal environment for cooler heads to prevail even in the midst of a breathtaking problem.
Meeting Rooms for Rent
We offer spaces for all types of requirements and occasions, right from an interview to a board of directors meeting to an on-call conference. Each of our rooms has been custom designed for different purposes of your growing business.
Following are the three categories we are presently following: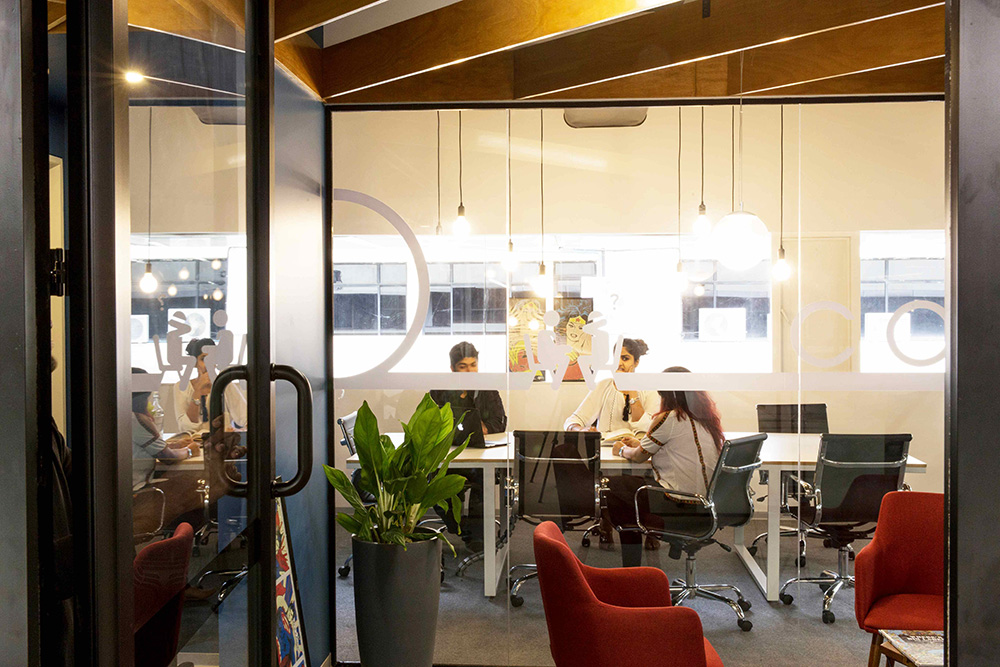 Interview Room: A two-seater meeting room rental with a whiteboard and telephone connection. Suitable for conducting personal interviews, conference calls, and confidential discussions. This serves as an ideal place for one-on-one conversations and job interviews. Bookings are open now and are available on an hourly basis.
Meeting Room: A six-seater room available on an hourly basis with a whiteboard, wifi, telephone connection and other amenities to allow for smooth, hassle-free discussions. A perfect room to organize small-scale meetings and brainstorm ideas and discuss other aspects of the company.
Conference Room: A spacious twelve-seater meeting room for rent with a projector, whiteboard, telephone connection for conference calls and wifi. It is suitable for discussions during client visits, investor meetings or to conduct seminars and workshops. These boardrooms are ideal for organizing video calls with clients and your development team. Bookings are open now on an hourly basis.
Training Room: organize group discussions, seminars or informal meetings in our coworking space every day, we also offer hourly and weekly bookings with flexible hours. It is a great place to exchange war stories and formal meetings.
Other Prominent Factors:
Prime Business Location: GoodWorks CoWork is located in Whitefield, the computer centre of Bangalore. It is the premier business centre for major tech giants, software firms, mobile development agencies and other service providers. Inviting your clients and business to such a prime location will be prestigious and our facilities will give the perfect backdrop for a competent business meeting.
The facade of the corporate building: When it comes to business transactions, every organization wants to be taken seriously, and our meeting rooms guarantee it exactly. The coworking space is located in the Akshay Technology Park on the main ITPL road. The building is an established business space with the presence of big companies like Capgemini, iGate, Sunovaa Tech and others. The surroundings provide a perfect backdrop for a business centre that houses effective business organizations.
A Great Cafeteria: a well-stocked cafeteria waiting for a few meters from Goodworks Cowork. The cafeteria has a menu that has something for everyone, even for those who are looking to tickle their taste buds a little. With a variety of juices, shakes, salads and snacks, the cafeteria is well equipped even to take personalised orders for business meetings and conferences. It is the perfect place to take a break from your meetings and relax your mind and perhaps indulge in food and beverages.
A great meeting is characterized by these points:
Beginning on schedule: Our meeting rooms are in a prime location of Bangalore. It is easily accessible by major companies, so, scheduling is easier. The electricity is fed by a fully functional generator and we make sure that there are no administrative delays on our side as well. Begin on time and you can expect everybody to participate in the meeting actively. Remember, time is money.
A conditioned environment: The quickest way to lose the participants, other than being an interminable, crashing bore, is to conduct your meeting in a room where the environment can be distracting. This could involve too much temperature for participants or poor ventilation. This, coupled with a dark meeting room, encourages people to fall asleep. Our meeting rooms do not look like this and the assured atmosphere will not be a factor that will disappoint you
Apart from these above points, these are some room organising techniques we have kept in mind.
"Meet in a room where members won't be constantly annoyed by ringing phones, people knocking on the door, and other disturbances. The aim is to achieve a meeting of the minds and accomplish great things; distractions do not help. Meet where there is wall-to-wall carpeting and walls are adorned with pictures, posters, curtains, and similar objects to help absorb sounds and offer a richer texture to the voices being thrown around in the room. Contrast this environment with a meeting held on a tiled floor, with cold metal chairs and thin white walls. Participants can not wait until the end of the meeting when the meeting room feels like a detention cell, regardless of the interest of the subject. Gather where the seats are comfortable and support the lumbar region of the back. However, too comfortable seating can have a detrimental effect and cause people to fall asleep. – Jeff Davidson, opinion leader.
Our meeting rooms are well equipped and modelled to provide the perfect environment for discussions and business meetings. With our coworking space in Whitefield, Bangalore, a prime location, our conference room rentals will allow you to host even symposiums with a little bit of ease.