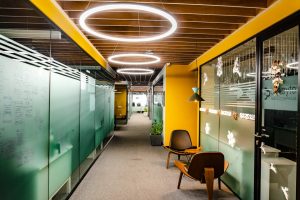 In the wake of the pandemic, traditional work culture has undergone a drastic change. That has led to the rise of different workspaces such as coworking spaces, managed office spaces, and so on! The wide contrast between a traditional office and managed office spaces explains the reason for the shift. With a wide range of benefits, managed office spaces have taken over conventional office setups. 
Managed office space: Definition
A managed office space is a workspace that can be customized as per the needs of the client or company. The space is managed and supervised by the third-party service provider, making it possible for businesses to focus on other aspects leading to more efficiency and work productivity. From furniture to technical equipment pieces, you don't have to worry about anything. 
Advantages of managed office space
Are you wondering about the benefits of managed office space? After all, it is vital to know more about a workspace before making any investments. Here are the advantages listed –
The most prominent reason that explains the popularity of managed office spaces is budget-friendliness. Managed office space comes with everything you need to successfully run a company. From furniture pieces, and utilities to other resources, the third-party operator handles everything. You just need to pay a specific fee each month.
Improvement in work quality
With access to a wide range of tech support, you can improve work quality immensely. The right technology and excellent support ensure employees can work without much hassle. The service providers handle the operational aspects of the business. That way, you don't have to worry about things, such as maintenance, design, office materials, etc.
With managed offices, you get the chance to customize as much as you want. For instance, you can choose the branding, lighting fixture, signages, interior designs, and much more! With such flexibility, you can downscale or upscale depending on the needs of the business. 
To attain high work productivity, thinking about the well-being of the employee is a must. Here, managed office spaces offer excellent choices. Warm colored interiors, open spaces, gyms, break-out zones, and more enables employees to relax. It is an excellent way to get rid of monotony and improve work productivity. 
In order to thrive and grow your business, networking is critical. Managed office spaces offer the perfect opportunity to network with potential clients and employees. You never know when you can bump into a high-profile client or get the chance to recruit a skilled professional. 
One of the most unique yet favored aspects of managed office spaces is scalability. Here, you have the capacity to scale up as your business grows in size. That means you can rent more space or opt for more resources based on your company's needs. That gives it an edge over a conventional office environment where scaling is an expensive investment. 
With scaling comes the much-needed security concerns. Managed offices aid in reducing such worries. The secured and private IT infrastructure that the service provider offers makes this solution an appealing choice. With dedicated infrastructure, you can gain access to a secured network that nobody else can use.
Conclusion
The rise of managed office spaces has led to the recognition that works productivity can be maintained even without the conventional setup. Another alternative that one can explore is coworking spaces. It comes with a wide array of resources and enables the employees to work in a warm and friendly environment. That inevitably leads to an increase in work productivity and has an impact on the overall company revenue. 
Try GoodWorks Coworking Space
Check out GoodWorks Coworking spaces in Bangalore and get what you need! GoodWorks has all the options that are there in a coworking space so you can take up as per your requirement. You get all the premium amenities and a top-notch working environment with 100% privacy. Want to know more details on how to book? 
Check out GoodWorks CoWork, based at all prime locations of Bangalore. We bet, we'll not disappoint you. Contact us here!