"He could do all this just because he could dream, and dream big. He was a hanker with a vision."
Dhirubhai Ambani is not an unheard name to an Indian. As the founder of India's largest private firm and second largest publicly traded company in the country, Reliance Industries, Dhirubhai has undoubtedly made enormous capital in his lifetime but for his thousands of shareholders.He could do all this just because he could dream, and dream big.
Dhirubhai Ambani was born to Hirachand Govardhandas Ambani and Jamanaben in the village of Chorwad, Junagadh district. His father was employed as a school teacher while his mother was a homemaker. Raised in frugal living condition right from an early age, he was aware of the inefficiencies that the family dealt due to the small income of father and larger expenses. He started working as a petrol attendant and then as a clerk in an oil company. Later he went to Aden in Yemen and took up a clerical job at A. Besse & Co., which was one of the largest trans-continental trading firms.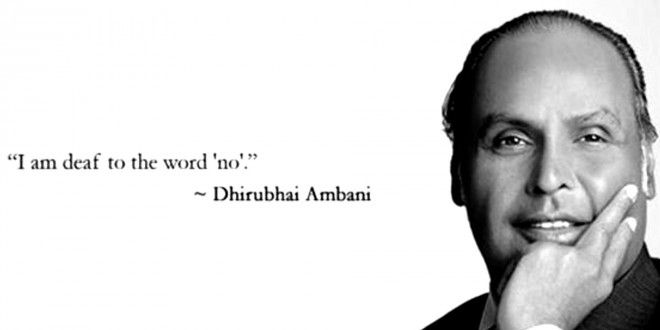 Curious to learn the tricks of the trade, he soon started working simultaneously for a Gujarati trading firm. Meanwhile, Yemeni movement for independence curtailed opportunities for Indians living in Aden. Thus he moved back to India in 1958 and started exploring business opportunities in Bombay.
Since he could not make a large investment, he settled as a spice trader under the name "Reliance Commercial Corporations". He soon started trading spices and sugar to the Gulf Emirates. He initially focused low profits and high volumes and high quality. Not the one to have easily contended, he soon shifted focus to yarn trading. Though this had a high level of risk involved. But if the risk were high, so where the margins for a man of daring. Later as a first step to fulfilling his dream of setting up a manufacturing unit, he started setting up a textile mill in Naroda, Ahmedabad. His main aim was to produce the best quality Nylon in the quickest way possible and in large quantities.
By August 1966, the construction work almost over, the equipment and machinery were being installed to start up with the productions. However, the new company had no buyers in the market. The whole seller refused to buy any fabric from Reliance at the instance of established big mill owners. Not the one to accept soon defeat. He soon steps out of the road and started selling stock directly to the retailers. His daring attitude and gutsy behavior impressed everyone and soon the market for Vimal – the name of his fabric, started expanding. In no time it became the finest and the best selling fashion fabric.
Over time, Dhirubhai diversified his business with the core specialization being in petrochemicals and additional interests in telecommunications, information technology, energy, power, retail, textiles, infrastructure services, capital markets, and logistics. The company as a whole was described by the BBC as "a business empire with an estimated annual turnover of $12bn, and an 85,000-strong workforce".
Dhirubhai Ambani was the mastermind, the initiator, conceptualizer, and visualizer behind the Reliance group. Starting off as a mere yarn dealer he rewrote history by establishing Reliance Industries at grass root level and making it the largest business empire in India.
Good entrepreneurs usually have a family background in business. Great entrepreneurs usually have none and start from scratch. Bill Gates is the son of a  lawyer. Zuckerberg is the son of a dentist. Larry Page's parents are professors. Look up most great entrepreneurs in history – Larry Ellison, Thomas Edison, Steve Jobs, Henry Ford, George Soros, Jeff Bezos – they were all first generation entrepreneurs who grew from practically nothing.
Dhirubhai Ambani is an Indian icon who did that way. He is a little more special than the American entrepreneurs as the old world relies on connections & lineage a lot, a lot more than the new world.
Dhirubhai started out as a trader importing polyester fabric and exporting spices. The small dowry he got and experience he acquired working in middle east, helping him a bit to get started in this.
Trading was not a sexy thing those days. Only uneducated people and very rich kids without much drive were dabbling in there. There was not enough competition for someone as smart and as fierce as Dhirubhai. Once he mastered polyester trading, he moved upstream to start producing fabric and downstream to directly brand this fabric to customers.
His apparel brand – Vimal – created a sensation in the 1970/80s. Vimal brought in top fashion designers to build the aesthetic appeal, focused a lot on fabric quality, made really sexy promotions and got a whole bunch of top model & cricketers to endorse.
Then expanded the polyester business and started producing the things needed to make the polyester (as India's import rules were quite harsh) such as petrochemicals.
Besides the product innovation, he also utilized the financial markets to full extent. His company went to IPO in 1977 (when India's stock markets were very small) and really used the power of common investors. When I was young, my parents will always be chatting about how everyone should own Reliance stock – it took stock markets to the masses.
Dhirubhai had the dream to break in a market with too much of connections, had the persistence to stay through Indian government's moronic policies, had the innovative ability (both in product and finance) and finally the luck, from the dowry to being at a time when the Indian economy was exploding.
While a family background in entrepreneurship can help you be a good entrepreneur, it doesn't help a lot in being a legendary entrepreneur. Legends completely blaze their own path without being encumbered by the past.
After partition, a peculiar thing happened with the Indian cotton industry. Most of the cotton growing areas were in Pakistan, whereas most of the cotton mills were in India (Bombay). Due to loss of raw material, the cotton yarn industry in India came to a halt, the result of which is seen in so many abandoned Mill complexes in Bombay.
Only the big and powerful, able enough to import cotton from Pakistan survived. One guy was Neville Wadia of the Bombay Dyeing fame. As was the case, he was the son-in-law of Mohammad-Ali-Jinnah-The Great. Next in line is his son, Nusli Wadia, who takes over after a heated battle with his father in mid-70's.
Meanwhile, our man Dhirubhai was rising up the ladder. How?
He started to trade in polyester and spices. Next moves into manufacturing business. The competition he faces is with Bombay Dyeing, which is an old, family run, virtual monopoly in this field.
Dhirubhai is a respected entrepreneur because he started literally from scratch. The unique quality he had – Street Smartness. That partly explains that his rise has definitely not been clean. It was the political and administrative patronage that placed him in such a position. The book clearly mentions the gains Dhirubhai made by bribing officials of every color of collar. When Indira Gandhi won elections in 1980, Dhirubhai was a chief financier and accompanied her in victory parade at Bombay.
Extracting official favors, he got the policies twisted to suit his brand of yarn. He imported machines worth thousands of crores without paying any duty, etc. Within a few years, all competition except Bombay Dyeing was out. It has been claimed that Dhirubhai's aim was not just making Reliance big and successful, but also annihilate the competition.
He was truly one of the greatest persistent entrepreneurs.