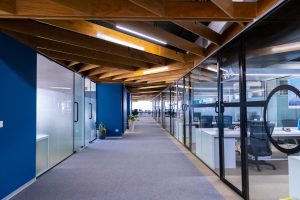 No matter the size of your business, opting for the right private office space is a daunting task. You will need to keep in mind various factors, ranging from actual space to the facilities available. One of the best options is to choose a coworking space. With the rise of the growth of coworking spaces, more and more business organizations are exploring it rather than going for a traditional office space. 
But before choosing a place that will be your office, there are certain factors to keep in mind. Changing spaces now and then is never feasible and takes up a lot of time. We understand that searching for the right private office space might be overwhelming. So why take that headache?
Here we have jotted down the top five things that you should keep in mind while choosing the ideal private office space. Keep in mind that picking the best coworking space is directly linked to the success of your business. That is why we have compiled a list of the top five factors that you must consider – 
The foremost factor that you need to consider while searching workspace is the location. Keep in mind that it should be convenient for you and your employees. Moreover, you must take note of the public transportation and access to it. As your clients can also visit your office, therefore, it should be easily accessible for all and at a prime location to create a good impression. Other things that you need to consider are parking, coffee shops, restaurants, etc. 
Secondly, you need to focus on the amenities or facilities that space offers. For instance, check out if they provide free Wi-Fi and parking space. Moreover, you can take note if they have any separate areas for exercising or get-togethers. Formal conference rooms are also needed. Furthermore, you must also consider the kitchen and the availability of snacks, mails, meeting rooms, printers, etc. With these services, you can increase work productivity with ease. 
When it comes to attaining the best workspace, you need to consider the pricing. However, you must take into account the amenities that space offers. Different coworking spaces offer various membership plans. Moreover, make sure that these are flexible so that you can change or upgrade them whenever you want. With friendly policies, you will not have to change the space even if your business expands. 
You must choose a workspace that can offer you a much larger area if you need it. For instance, if you can envision your team increasing within a year, you need to find a space to accommodate your business needs. Moreover, also check out if there are meeting rooms that can include larger teams. It is pertinent to remember that it is in the meeting rooms that one can land potential clients or hire exceptionally talented individuals. Hence, you must not omit these points.
Choose a workspace that can offer strong community support. For instance, some coworking spaces organize workshops and events. So you check if they hold seminars and other meetups. These are the places where you can put your networking ability to the test. You will meet new people here and make more professional connections. Moreover, you might also make some personal bonds. Also, connecting with others on these events will eliminate boredom and monotony. 
Conclusion
These are the factors that can help you opt for the best private space. It is vital to keep in mind that this decision can help in the growth of the business. If you want to attract clients and talented professionals equally, you can get in touch with the best coworking space in Bangalore, GoodWorks Cowork! GoodWorks has the best-in-class amenities and flexible plans that will suit your needs and budget perfectly. You can reach out to the team here!