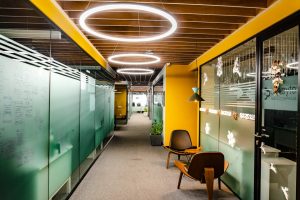 Are tons of distractions hampering your productivity and do you feel that you're not getting enough work done throughout the day? Then it's time you give your work practices little changes and these changes will not only allow you to get more quality work done in a shorter span of time but also reduce the amount of time spent on unnecessary tasks.
As a majority of us are still working remotely for many months, losing motivation and creativity is a common thing we get to experience. We even lose a track of time and working independently and taking accountability for work is becoming a challenge for most people.
If you are too dealing with a similar situation then at such times, working from a co-working space can prove to be highly efficient and productive. When you spend your days in a co-working space it can help you in many ways. The main point is that it bridges the gap between remote work and working from an office.
It's time to give your productivity a boost and get more things done in lesser time. Let's discuss how joining a coworking space can help you in it –
1.Better environment, better productivity 
Entrepreneurs and other large business owners are choosing coworking spaces more now and there is a reason for it. A coworking space gives people a complete office-like-environment they lack at home. No matter how good your workstation at home is it will lack the environment that we get in an office. By going beyond your regular workstation at home is the first step toward boosting your productivity. The inspiring décor, the comfortable chairs and couches, the visual of people working all around you will instantly open up your minds to creativity.
At GoodWorks coworking spaces, we believe in offering a wholesome experience to our members, and you can expect a drastic surge in your productivity levels at our centers.
2. Get to network, connect and work
Working in isolation becomes boring after a certain point, at that time a coworking office can help you up your productivity levels. As you get to network with many people it not only gives you a chance to learn new things from other like-minded professionals but also helps you bond over shared interests. This is also one of the primary reasons why remote workers are turning to coworking spaces.
Though mobile phones have connected us but still networking is an immensely important thing in our professional sphere of life. At GoodWorks spaces, the coffee counter and lounge is the space where most of the interactions happens over a cup of coffee and are perfect spots to meet and connect with other members.
3. Amazing interior and amenities 
Everyone will agree to this that an aesthetically designed space instantly cheers us up and also triggers the creativity in us. The design element of a coworking space plays a huge role in increasing one's productivity. When you are stressed by the day's work the comfort and elements of the coworking space are sure to soothe you. A welcoming space design and carefully chosen colors tap on your creativity and enhance focus thereby improving your productivity levels.
4. Work at your own pace
by working from home your break time from work will be mostly filled with other things at home and seldom you'll get a break to recharge yourself. But in a coworking space, you can make the most of your breaks by going over to the cafeteria, talking with others, spending some time in the lounge and coming back to your desk fully recharged.
The proper amenities in a coworking space help you rewind yourself from work and gives you the break away from your workstation every once in a while to unwind.
5.  Give it a try and experience 
The best part about working from a coworking space is that you can take the space on a daily basis or even on hourly basis and experience whether it works for you or not. GoodWorks' also provides one free trial day! Whether you want to take a specific desk every day or a meeting room for client meetings you can decide and book it hassle-free.
A coworking space also offers the benefit of flexible office space with comfortable open seating and access to shared amenities and vibrant common areas that help promote collaboration. In a flexible office space, you can pick a spot you like and get started on your work. You also get access to a seamless internet connection that keeps network issues at bay.
Try GoodWorks Coworking Space
Check out GoodWorks Coworking spaces in Bangalore and get what you need! GoodWorks has all the options that are there in a coworking space so you can take up as per your requirement. You get all the premium amenities and top-notch working environment with 100% privacy. Want to know more details on how to book? 
Check out GoodWorks CoWork, based at all prime locations of Bangalore. We bet, we'll not disappoint you. Contact us here!