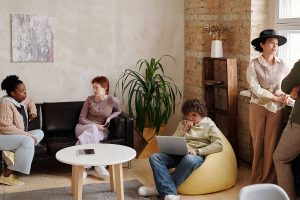 More than 76% of the population suffers from stress and the primary reasons cited for this stress are work and finances. And the levels are even increasing after the pandemic and people are facing stress-related consequences and health issues. This burnout epidemic for individuals and corporations is rising higher and higher up and its high time to do something to save oneself from it.
Firstly how to know that stress levels are higher?
These are the few major symptoms that shows you are under stress
Chest pain, rapid heartbeat.
Nausea, dizziness.
Eating too much or not enough.
Procrastinating or neglecting responsibilities.
Too high or low blood pressure levels.
Worrying incessantly.
Feeling overwhelmed.
If you are experiencing any of these then it's time to take a few precautionary steps to beat work-related stress before it spirals out of control –
Know the reason behind your stress
You need to understand exactly what is keeping you stressed? is it the high workload or something from your personal life that is bothering you? It can be the manager who keeps micro managing you or lack of sleep due to uneven work timings. When you know the reason it becomes easier to handle it. So the first step in managing stress is to know the reason behind its cause.
Take time to recharge yourself
Every few days you need to work on yourself to recharge yourself and make it a habit. For example, reading a book at night or watching your favorite show can lighten your day's stress and taking a small vacation on weekends to unwind and recharge will always help you to relax.
Work on your time management skills
Time management is really a skill to master that will help you get more done in lesser time. Set up priority list, align your tasks accordingly, learn to delegate at work and at home both. You need to know that being available around the clock will easily burn you out. It's important to create clear boundaries between your work and home life to help you avoid potential stress.
Eliminate negative thoughts, and look for positivity around you
When you've experienced worry and chronic stress for an extended period of time, your mind may tend to jump to conclusions and read into every situation with a negative lens. You have to learn to avoid that and keep in touch with trusted friends and family members to help cope with stressful work situations. This way you'll be able to handle things better and even your stress levels will be at bay.
Learn to relax and unwind
In the race of becoming of perfect we often lose the inner peace, to avoid that by setting aside time for self-care. This is a must if you regularly find yourself feeling overwhelmed by work. This means prioritizing sleep, setting aside time for fun, and making sure you're eating healthy. You can even try on learning relaxation techniques such as slowing down and being conscious of your surroundings, and in touch with nature can keep you relaxed throughout the week. Meditation, deep breathing exercises, and mindfulness also works to calm your anxiety. And remember you can always take help of counselling if you feel the need.
Wrapping Up
Undeniably the pandemic situation has brought diverse losses and setbacks to businesses and build up stress levels of people. With the arrival of brand new working styles and hybrid work models, it becomes difficulat for people to cope up with it but what is more important is to take of yourself first and then things will fall into place. Today businesses of every size are showing keen interest in evolving their traditional office premises. The constant networking and collaboration among the employees and their physical and mental wellbeing contribute to productivity, work efficiency, and lower stress levels.
If working alone form homw is one of the reasons of your stress, you can even try out working from a coworking space. GoodWorks Cowork hosts private office spaces in Bangalore where you get access to world-class amenities and facilities.
Contact Goodworks CoWorks, the number 1, coworking space in Bangalore that provides, dedicated desks, private office, space, meeting rooms, a business center, and virtual office space. Get all your coworking needs filled in one place. So what are you thinking? Get in touch with our team for more details. You could even get a free trial day. Contact GoodWork Coworks here.