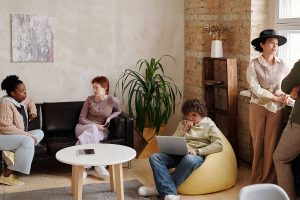 For startups to flourish and gain a foothold in the industry, the combined productivity of employees is crucial. In order to ensure that the employees offer their best, ensuring the creation of creative and productive startup culture is essential. 
A warm, welcoming, and friendly work environment goes a long way in making the employees feel a part of the company. If they feel excited to work for you, it will automatically be reflected in their work quality. While different startups follow various principles and ethos, the primary aims remain the same. 
It is vital to create a supportive and productive environment in order to ensure that the employees thrive. 
Can employees benefit from good startup culture?
Is making the effort to create a good startup culture worth it? To understand the benefits of startup culture, take a look at the pointers listed below – 
With a warm and friendly company culture, the employees feel relaxed. As such, they can work with enthusiasm leading to a high quality of work. Strong relationships between team members lead to a smooth workflow. The increased work productivity improves the company's reputation and aids in garnering more revenues. 
Another beneficial aspect of promising startup culture is that it encourages the flow of creativity. For any business to succeed, creativity is a must. If your company doesn't stand apart from others, it will eventually be forgotten. A working culture that shares feedback and suggestions among the employees lead to creative improvements in work. 
Opportunity to learn from others
If the employees feel relaxed and comfortable, they can start trusting each other. When trust is established, it becomes easier to ask for help and learn more. With employees helping each other out, you can cement the bonding of the team and can expect the team to handle incoming projects with ease!
Develop personal relationships
If a good startup culture aids the company in getting high revenues, it helps the employees too. You can foster and develop personal relationships with employees, mentors, and seniors. That will eventually help you traverse through the difficult phases of your career with a little bit of ease.
Appreciation and comfort play a significant role in improving the loyalty of the employees towards the company. In order to decrease employee turnover and retain them, you need to make sure that your employees know they are valued. Once you achieve that, you can expect devotion and loyalty to your organization. 
Is opting for a coworking space a good idea for building a startup culture?
Apart from monetary benefits, a coworking space is an excellent place to build your startup culture. With access to a wide range of resources, you can create a welcoming environment for your employees. Moreover, you can organize community events where everyone gets the opportunity to know each other and network. 
You can create your own weekly coffee gatherings, where you collect feedback and share inputs with the team. However, for the best results, you must choose a reliable coworking space!
Contact Goodworks CoWorks, the number 1, coworking space in Bangalore that provides, dedicated desks, private office, space, meeting rooms, a business center, and virtual office space. Get all your coworking needs filled in one place. So what are you thinking? Get in touch with our team for more details. You could even get a free trial day. Contact GoodWork Coworks here.