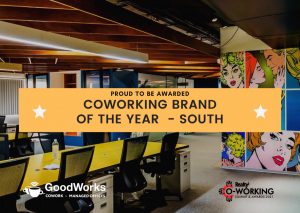 CEO & Co-Founder of GoodWork Spaces, Vishwas Mudagal was a part of the energetic session of Realty+ CoWorking  E-Summit held on Friday, January 29, 2021. The session "The Co-Working Challenge: Converging The Demand & Supply" had eminent CoWorking CEO's who discussed the co-working sector and how it is evolving in this new way of working! In the E-Summit, GoodWork Spaces has bagged the 'Co-Working Brand of the Year – South' award. Under Vishwas's guidance, GoodWork Spaces has emerged as the no. 1 coworking space in Bangalore. He presented his viewpoints on the coworking aspects and how businesses are coping up to this new way of working!
He says, "Companies have the opportunity to rethink office spaces from scratch. They can even customise it to their company culture or business objectives. Something they could have done before, but as said, it's better to be late than never!"
On evolving the growth strategy as per the rising demand, Vishwas believes that – "This sector will attract a lot of investments in the near future. Although it's slowed down recently because of the pandemic. Operators have to be present in all key micro markets – it also depends on how your strategy is. For example, Goodworks primarily targets secondary and tertiary districts with larger spaces with 1000+ seats.
Grade A and B+ infrastructure will continue to rule because most companies require compliant buildings that offer great products, facilities, amenities, etc.
The interactive session saw a lot of idea sharing and future predictions of the coworking spaces. It's a proud moment for the whole GoodWorks team to be honoured with the award, we are looking forward to more such accolades!
You can go through the detailed session here.